"John Schutt is a superstar in planetary science," says Ralph Harvey, director of the Antarctic Search for Meteorites (ANSMET) program. Schutt (pronounced "Skutt") has served as ANSMET's field safety officer and professional mountain guide for 31 years. Case Western Reserve University is awarding him an honorary Doctor of Science degree at this year's commencement.
"John is a geologist who chose to be immersed in the outdoors instead of in academia," Harvey continues. "He has helped us find tens of thousands of meteorites, and kept hundreds of scientists safe in a dangerous environment. It's wonderful that the university is recognizing his extraordinary contributions to planetary geology."
Born in Bremerton, Washington, in 1948, Schutt started hiking and skiing by age five; by his teens, he says, "I knew I wanted to spend my life working outdoors." He got his first taste of glacial adventure science while he was a geology major at what is now Western Washington University; he spent several seasons with the Juneau Icefield Research Program in Alaska, first as a student and later as a member of the field staff.
After receiving his bachelor's degree in 1971, Schutt jumped at the chance to be research station manager for the floating Fletcher's Ice Island (also called Iceberg T-3) Research Station, funded by the U.S. Navy and run by the University of Alaska. But after his North Pole experiences, he also longed to visit the South Pole. In 1980, Schutt happened to be mountain-climbing with a friend who told him of an opening for a mountain guide and safety officer with ANSMET. Schutt has worked in Antarctica every season since.
Also, during every northern summer since 1996, Schutt has spent four to six weeks at Haughton Crater on uninhabited Devon Island in the Canadian high Arctic, as camp manager for the Haughton-Mars Project, which is studying the geology of a large meteorite impact crater in a rocky desert remarkably similar to Mars.
Schutt remarks that, along with his deep appreciation for the honorary doctorate, "I feel so privileged to be able to do what I do and to work with the people I've been able to."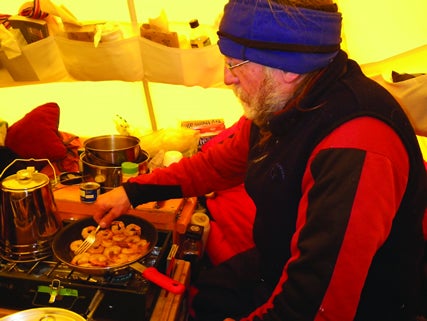 Photo: Melissa Lane/ANSMET