Arts and Sciences Home »
Appealing to the Imagination: Schubert Center Celebrates Creative Play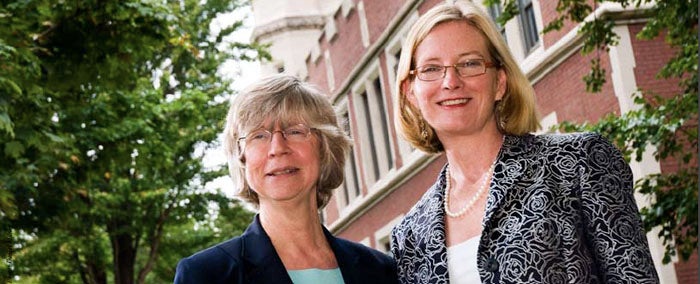 Sandra Russ (left) and Elizabeth Short, members of the psychology faculty, are communicating directly with parents and other caregivers through CreativePlayPlus.
Photo: Daniel Milner
To a casual observer, children at play might not appear to be making the most productive use of their time. Couldn't their parents have signed them up for a more worthwhile activity—an organized sport, Suzuki lessons, a trial run of the latest educational software?
According to researchers at the Schubert Center for Child Studies, the answer to this question is a resounding No. Decades of studies have found a relationship between spontaneous play and the development of heightened creativity, problem-solving skills, and the ability to express emotions and empathize with others. There is also evidence that when children imitate real-life situations, they prepare themselves to navigate the challenges and expectations of the adult-dominated world.
And yet, for many children and families, time for play is in increasingly short supply. "In this world of heavy programming, we tend to structure kids' every minute and not really allow them ample opportunity to explore their environment independently," says Elizabeth Short, professor of psychology and associate director of the Schubert Center. "And while I think it's important to have structured activities where kids learn to follow rules, they also need creative opportunities for play."
To help get that message across, the Schubert Center recently joined with Step2, a leading toy manufacturer, and Optiem, a marketing agency, to launch CreativePlayPlus. This interactive Web site explains the benefits of play, describes the forms of play that children engage in at different ages, and offers tips for incorporating creative play into children's daily lives.
Since its debut in June, the site has featured posts by Elizabeth Short and two faculty colleagues in the College of Arts and Sciences: psychology professor Sandra Russ and music education professor Lisa Huisman Koops. The director of the Child Policy Initiative, Molly Irwin, is the project leader on the Schubert Center's side. Her assistant, Kelly Christian, is a graduate student in child clinical psychology whose research is devoted to children's play.
By venturing into the blogosphere, Irwin says, the Schubert Center has found a new means of achieving its mission: sharing the expertise of child researchers at Case Western Reserve with audiences beyond the university. Many of the Center's publications and events are directed to practitioners, such as social workers and health care providers, and to policy makers. But the Web site provides outreach to a larger constituency: parents and others "who are spending time with kids every day."
Psychologists have been studying creative play for decades, but their research questions are constantly evolving. Russ's early work, for instance, focused on incorporating play into child therapy and developing standardized measures of play abilities. More recently, she has been evaluating techniques for helping children exercise their imaginations and express their emotions more freely. Once the research base for these practices is firmly established, Russ may try her hand at a trade book for parents and teachers. But for now, the Web site has given her a way to connect with a non-academic audience.
In one of her posts, Russ invites parents to think of storytelling as a form of creative play. Children often invent stories about make-believe characters or picture themselves in imaginary situations. Adults can foster creativity by praising children for their stories and encouraging them to elaborate: "What happens next?" "What are the characters feeling?" Such questions provide guidance when children are "stuck" and help them experience the pleasure of playing with ideas.
In crafting their message to parents and other caregivers, Short and Russ are careful to strike a balance: Recognize the importance of creative play, but don't take the fun out of it. Interact with your children, but don't destroy the independence and spontaneity that make creative play rewarding in the first place.
A Different Approach
Thousands of Web sites dispense information to parents, notes Rob MacKay, Step2's vice president for Internet sales and marketing. But until CreativePlayPlus was launched, there was little online discussion of the relationship between play and child development. No one, says MacKay, had translated the academic research into lay terms and "put it into the hands of the moms and dads out there who can really use it." And the toy industry, which is very effective at marketing products to children, has rarely communicated with parents about the value of play in general.
In its collaboration with the Schubert Center, Step2 is taking a very different approach. The company does not engage in direct sales or marketing through CreativePlayPlus. Its goal, MacKay says, is not to "push specific products," but to establish its presence in the Internet's vast "marketplace of ideas."
Recently, a mother wrote to the site about a play tunnel she'd built for her 10-month-old son by taping diaper boxes together. When MacKay read the post, he wasn't disconcerted; he didn't wonder what it would do to sales of Step2's plastic-molded tunnels and climbers. He is satisfied if parents remember gleaning information from a site that his company sponsors. The point, he says, is to be "involved in the conversation about children and play."
Irwin adds, "We'll be hearing from parents and grandparents who are interacting with kids, and we'll be able to respond directly to what their questions and interests are. But we also want to create an online community where parents are talking to each other. You'll often see at the end of a post, 'So, what do you do with your kids?' The hope is that parents will have discussions and start saying, 'Well, I do this,' and 'Here are some ideas.'" In other words, CreativePlayPlus is encouraging parents to use their imaginations, too.