Arts and Sciences Home »
Reflections on the Water
A SAGES Seminar Explores the Literature of Fly Fishing

The first time John Orlock brought his students to Wade Lagoon to practice fly casting, a guard from the nearby Cleveland Museum of Art tried to put a stop to it.
"No fishing allowed," he said.
"It's all right," Orlock told him. "We're not fishing."
This was true. The lines had no hooks or flies at the ends—just snippets of DayGlo-colored yarn. The point of the excursion wasn't to poach the local bluegill and carp from their sanctuary in University Circle. The students had no ambition, for the moment, beyond learning to cast with grace and accuracy.
The guard isn't the only one who has misunderstood what Orlock and his students are up to. "I hear you're teaching a course on fly fishing," colleagues say to Orlock, and he always corrects them: "Actually, it's a course on the literature of fly-fishing." In English, this literature dates back to the 15th century, when Dame Juliana Berners, a noblewoman and a nun, composed her Treatise of Fishing with an Angle. The treatise includes instructions for fashioning twelve distinct types of "flies"—assemblages of wool and feathers that fish mistake for aquatic insects and other prey.
Of course, if the fly fishing canon were merely a repository of technical advice, Orlock wouldn't have chosen it as the topic for an undergraduate seminar. But over the centuries, the literature of fly fishing became a rich source of philosophical reflection on the relationship between human beings and the natural world. Like other forms of nature writing, it often begins in contemplation and solitude, and it allows both for picturesque description and for poetic and metaphysical flights.
Orlock, the Samuel B. and Virginia C. Knight Professor of Humanities, designed his course for the SAGES program (the Seminar Approach to General Education and Scholarship). He first offered it to sophomores during the 2008 summer session, and then adapted it as a First Seminar for incoming students this fall.
Early on, Orlock realized that students might not appreciate the skill and artistry of fly fishing if they had never attempted a cast themselves. So he wrote to the Orvis Company, a leading manufacturer of fly fishing gear, and the company responded with a gift of eight rods and reels. Now, students can sign out the equipment and plan their own excursions, which aren't necessarily confined to Wade Lagoon.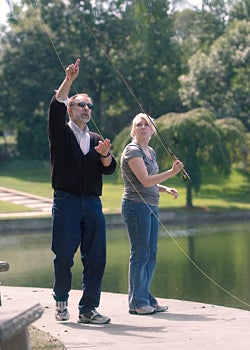 SAGES student Rachel Gardner receives advice on fly casting from John Orlock.
Photos: Mike Sands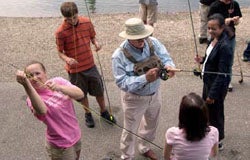 George Vosmik, a master fly fisherman of national reputation, served as guest instructor during the SAGES outing.