Arts and Sciences Home »
Starting Out in the Field: Students Join Hunt for Fossils in Ethiopia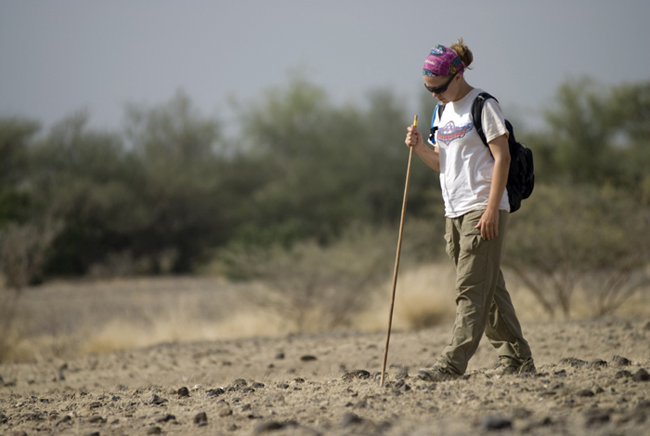 Erin Benson surveys for fossils at Woranso-Mille in central Ethiopia.
Photos: Liz Russell, The Cleveland Museum of Natural History
While he was still a graduate student, Yohannes Haile-Selassie began making discoveries that would change scientists' understanding of early human evolution. In the summer of 1997, on an expedition to the central Afar valley in Ethiopia, he unearthed fossils belonging to two previously unknown hominid species: Ardipithecus kadabba (5.2 million years old) and Australopithecus garhi (2.5 million years old). Today, as curator and head of physical anthropology at the Cleveland Museum of Natural History, he leads an international research team that continues to fill in gaps in the evolutionary record and reconstruct the environment in which our first human ancestors lived.
With support from the College of Arts and Sciences, Haile-Selassie is also preparing the next generation of paleoanthropologists. Every fall, he teaches an undergraduate course on the fossil evidence for human evolution. And earlier this year, for the first time, he selected two students to spend an entire field season at his current research site, Woranso-Mille, not far from where he made his first significant finds.
Erin Benson and Robin Schulze admit that when they applied to the "senior field seminar" last fall, they didn't quite know what they were getting into. They were both juniors majoring in anthropology, and they figured that if they were accepted, they would go to Ethiopia in spring 2009. But then, once the semester was over, Haile-Selassie called them into his office.
"We thought it was for the final interview," Schulze recalls. "Then he said, 'By the way, we're leaving in two weeks. Can you go?' I really didn't have much time to think about it. The excitement of just going on the spur of the moment made the decision for me. When was I ever going to get this opportunity again?"
Schulze's eagerness was understandable: Physical anthropology was her area of concentration, and she was also majoring in evolutionary biology. For Benson, the match between her research interests and the Woranso-Mille project wasn't as close; she had focused on archaeology and Native American cultures, with a second major in women's studies. Still, she says, "I wanted the experience, to see what it was like, to see if it was what I wanted to do."
When the two students arrived in Ethiopia, they met an alumna of the College who was also working at Woranso-Mille. Stephanie Melillo had taken Haile-Selassie's course in fall 2003, and obtained an internship in his laboratory the summer after she graduated. Now a doctoral student in biology at Stanford University, she was spending her second field season with his research team, this time as a project assistant.
Thinking back to her earlier experience, Melillo recognized the adjustment Benson and Schulze had to make. The daily work of fossil hunting, she says, is very different from what people see on the Discovery Channel. "There's a lot of tedium, a lot of down time, a lot of hurry up and wait periods in the field," Melillo explains. "And it's hot, it's uncomfortable, and you're in conditions you're not used to."
The team set up camp near the Mille River, pitching tents and building a perimeter fence of thorny acacia branches to keep out wandering goats and camels. The amenities included three-liter "shower bags," but Benson and Schulze found it easier to bathe in the river. In the kitchen tent, a cook served up a variety of goat dishes, along with pasta, rice, corn, and vegetable soups out of a packet. To their surprise, Benson and Schulze gained weight during their six weeks in the field; in the absence of other diversions, food took on an exaggerated importance.
"I learned to find happiness in such small things," Schulze explains. "I was elated if it was lentil soup day. We tried to figure out when lentil soup day was coming; we thought it followed some sort of pattern. Close to the end, I cried once because I thought it was lentil soup day and it wasn't—it was leftover goat meat day. I just lost it."
Earth's Horizons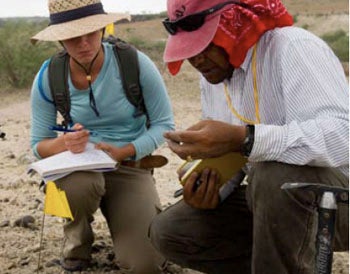 The specimens that Haile-Selassie and his team collect each field season were originally deposited in layers of siltstone or sandstone, and then covered by volcanic ash. Under these conditions, they were "mineralized" and preserved as fossils. Over subsequent ages, as massive earth movements created the mountains and basins of the region, and as upper layers eroded away, the fossil-bearing sediments were brought to the surface.
Geologists on the research team, including associate professor Beverly Saylor, identify rocks from the ancient sediments and reassemble them like puzzle pieces, determining the relative ages of distinct "fossil horizons." Through a method called argon-argon dating, they also determine the ages of the volcanic layers above and below these horizons. By this means, they can place constraints on the fossils' absolute age ("between 2.5 and 3 million years old," for example).
Josh Angelini, one of Saylor's graduate students, spent the entire field season at Woranso-Mille, taking stratigraphic measurements of the river banks and collecting samples from volcanic tuffs. His findings will be the subject of his master's thesis.
The prospect of working in Ethiopia had been in Angelini's mind even before he started graduate school. He had earned his bachelor's degree at Case Western Reserve, with a major in anthropology. But his minor was in geological sciences, and shortly after he graduated in January 2007, he worked with Saylor on a field project in Death Valley. At one point, she asked about his career plans, and he remembers saying, "Being out here makes me want to pursue this geology thing for a while longer." She invited him to apply to the graduate program and suggested he join the Ethiopian expedition.
"I'd never been to Africa before," Angelini says. "I'd never participated in physical anthropology before." But he picked up knowledge from team members, some of whom lived in the region and had spent years as fossil hunters on international projects. "While I was doing my geological work," Angelini recalls, "I would come across a fossil and say, 'That's one they want,' and I'd mark it with a flag."
Benson and Schulze were also learning to recognize "collectible" fossils—those that were well preserved, identifiable as relics of particular species, and relevant to Haile-Selassie's research. "It's a matter of both luck and skill," Benson says. "If you're in the wrong place at the wrong time, you won't find anything. On the other hand, people were picking up fossils that I thought were just useless and identifying them as something important."
An Insider's Perspective
The team members worked 13-hour days, seven days a week. They built roads and ramps to new sites, clearing large rocks from the paths of their vehicles. In order to survey large areas, they often spread out across the landscape; Benson recalls scanning the ground for hours at a time with no one near enough to talk to. "How did I get to be in Ethiopia?" she would ask herself. "What am I doing here?" Then she adds, "There were times when I missed home, but there was never a moment when I regretted going."
When someone found a hominid fossil, several team members gathered at the scene, formed a line, and crawled across the ground, looking for additional fragments. They sifted heaps of dirt through wood-framed sieves and spent days picking through the remainder. But while hominid fossils were the most exciting finds, the project collected many more fossils of other creatures, such as prehistoric pigs and cows. Much of what researchers know about the ancient environment has come from the analysis of such specimens.
"We got to follow Dr. Haile-Selassie for the last hour of every day," Schulze says. "He would show us each and every bone, and explain what it was. We would write all the information down in the logbook. So we got a little more of an insider's perspective."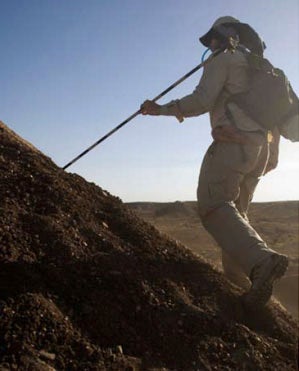 Before they went out to the field, Benson and Schulze spent a week at the Ethiopian National Museum in Addis Ababa, learning the classification system in its physical anthropology lab and studying bone fragments. After their field experience, they returned to the museum for another week and a half to help curate the new finds.
"One of my jobs was to label all 840 fossils," Schulze says. "I got to touch every single fossil one more time. When we were in the lab every day, with Dr. Haile-Selassie sitting right beside us, all of the questions we'd had in the field came back to us, and he was there to answer them."
The Best Chance
In spring 2009, Haile-Selassie plans to take two more students to Woranso-Mille. Ordinarily, he says, "undergraduates pay thousands of dollars to a field school to get this kind of experience." But Dean Cyrus C. Taylor has funded the senior field seminar for its first two years, covering all of the students' expenses.
"What they're going to continue with in their careers is up to them," Haile-Selassie observes. "They're undergraduates, and they have a lot of choices. But we give them a chance to learn what paleoanthropology is all about, and if they're interested in pursuing it, this is the best chance they could get to familiarize themselves with what is waiting for them down the line."
Then he adds, "I'm sure that from all these undergraduates we're going to take, a lot of good paleoanthropologists are going to come out. That's when all the effort will pay off."