About Dr. Sauvé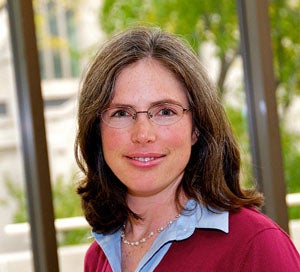 Assistant Professor
Materials and Energy
Organic, Physical, Polymers
Contact info.
Phone: (216) 368-3665
E-mail: genevieve.sauve@case.edu
Education
Ph. D.
California Institute of Technology
, 1999
Postdoctoral Fellow,
Carnegie Mellon University
, 2002-2005
Research Associate,
Carnegie Mellon University
, 2005-2008
Visiting Scientist,
Helmholtz Centre Berlin for Materials and Energy
, 2008-2009
Dr. Sauvé was born in Montréal, Canada. She obtained her PhD at Caltech, working on inorganic solar cells with Prof. Nathan S. Lewis. She then spent some time at PPG Industries as a senior development chemist, working on smart windows. In 2002, she joined Prof. Richard D. McCullough's group at Carnegie Mellon University as a postdoctoral fellow. There, she synthesized conjugated polymers and diblock copolymers based on polythiophene. She also set-up instrumentation and developed procedures to make devices and to quickly test organic materials in field-effect transistors. Her work enabled significant contributions to fundamental research on structure-property relationships in conjugated polymers. She was also part of a multidiciplinary team to develop integrated sensors. After accepting a position as assistant professor at Case Western Reserve University, Dr. Sauvé deferred by a year and went to Berlin, Germany, where she collaborated with physicists studying organic solar cells (Dr. K. Fostiropoulos of the Helmholtz Centre Berlin for Materials and Energy, and Prof. Dieter Neher of Potsdam University). She was also fortunate to have funding from the Max Plank Max Planck Institute of Colloids and Interfaces and from DAAD (German Academic Exchange Service). In August of 2009, Dr. Sauvé joined the chemistry at Case Western Reserve University. She is a Mentor fellow, has received a Glennan Fellowship for developing hands-on experiements for her Solar Energy Conversion course, and has received a prestigious NSF CARREER award.

Sauvé Curriculum Vitae (pdf)
Teaching
Spring 2013
CHEM 330/440: Solar Energy Conversion
Fall 2012
CHEM 335: Physical Chemistry 1
Spring 2012
CHEM 330/440: Solar Energy Conversion
Fall 2011
CHEM 335: Physical Chemistry I
Fall 2010
CHEM 335: Physical Chemistry I
Spring 2010
CHEM 504: Special topics in organic chemistry – Solar energy conversion

This is a multidisciplinary course from a chemist's viewpoint. Topics included: Global energy perspective, Basics of Solar energy conversion, Principles of photovoltaics and intro to semiconductor physics, Crystalline solar cells, Thin films – a-Si, CdTe and CIGS, Plastic solar cells, Photoelectrochemical cells and fuel production, Dye-sensitized solar cell, Molecular photosynthesis and fuel production, Semiconductor nanostructures and quantum dots
Fall 2009
CHEM 335: Physical Chemistry I