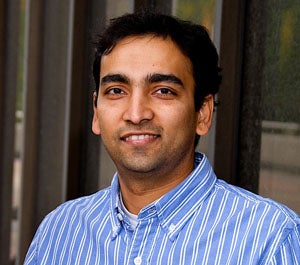 Rajesh Viswanathan
Assistant Professor
216.368.3696 rxv69@case.edu Millis 214
Interests: Organic Chemistry, Protein Biochemistry, Chemical Biology, Chemical Synthesis and Characterization, Genetically-Encoded Natural Products, Molecular Biology, Microbial Genetics, Bioinformatics, Metabolic Pathways, Drug Discovery
Bachelor of Science (B. Sc): Madras University (The New College), Chennai, India, 1994 – 1997.
Master of Science (M. Sc): Indian Institute of Technology, Kanpur, India, 1997 – 1999.
Ph.D. Indiana University, Bloomington, 1999 – 2005.
Post-Doctoral Research, University of Utah, 2005 – 2008.
Research Experience
Graduate studies in synthetic and mechanistic natural product chemistry – tutelage: Johnston lab.
Post-doctoral studies in biosynthetic pathway studies and enzymology – tutelage: Poulter lab.
Research at CWRU
Our laboratory's contributions to the field of drug discovery and development are focused along two synergistic directions: a. designing novel pathways for the creation of small molecule chemical space and b. discovery of new biocatalytic systems. We strive to accomplish these goals in a green, economic and sustainable fashion by harnessing nature's biosynthetic potential. Using powerful tools such as genomics, organic synthesis and mechanistic enzymology, we design projects that unravel the mysteries of natures' bond-forming processes leading to natural products.
Our research group site is designed to keep you updated with research and teaching my group and I are excited about. We welcome you to our website describing our efforts at Case Western Reserve University's Department of Chemistry.
Research Interests
Biosynthesis in Cyanobacteria, Actinomycete and Fungi for Discovery of Novel Pathways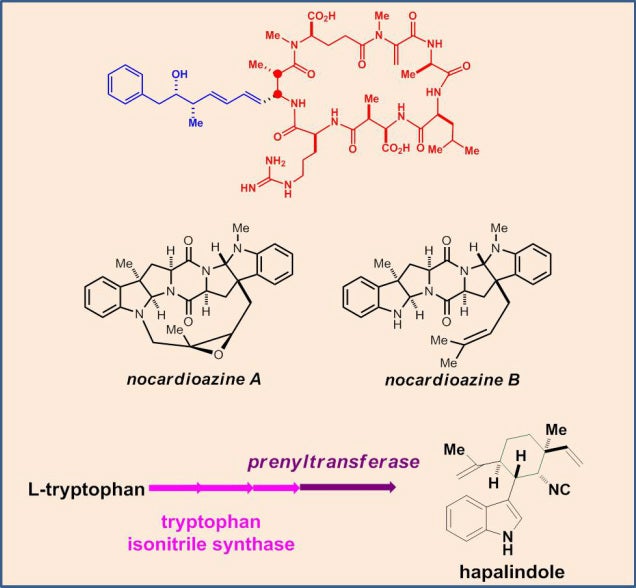 The palette on the right illustrates representative molecules biosynthesized by microbial colonies of cyanobacteria or marine actinomycete bacteria.
These secondary metabolites have diverse biosynthetic origins. For example, the hybrid peptide-polyketide (NRPS-PKS) shown above in color has biosynthetic machinery encoding for amino acids in combination with short chain activated thioesters to be tethered into a macrocyclic core structure. Cyanobacterial isolates known to produce these metabolites, are for the first time, probed for their biosynthesis pathway. In addition to molecules that emerge from our study, we are pursuing discovery of new biosynthetic enzymes catalyzing these intricate pathways.
Alkaloids containing L-tryptophan-derived secondary metabolites have powerful anticancer properties. Therefore, a library of natural and unnatural products are targeted through our biosynthesis engineering expeditions in the laboratory.
Cyanobacterial Genome Sequencing for Biosynthesis and Biofuel Generation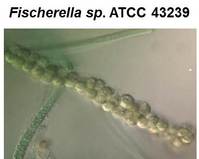 While marine cyanobacteria have succumbed to elegant and productive pathway research, filamentous soil cyanobacteria remain largely underexplored for their biosynthetic potential. We are carrying out the first collective genome sequencing efforts to identify novel pathways both for sustainable production of drug-like compounds as well as linear saturated alkanes from inexpensive feedstock to address viable production demanded by the rising global demand for energy and fuels. We collaborate with world's leading labs on cyanobacterial genetics to delineate useful pathways. The experimental approach we take to achieve green and sustainable production of secondary metabolites is outlined below.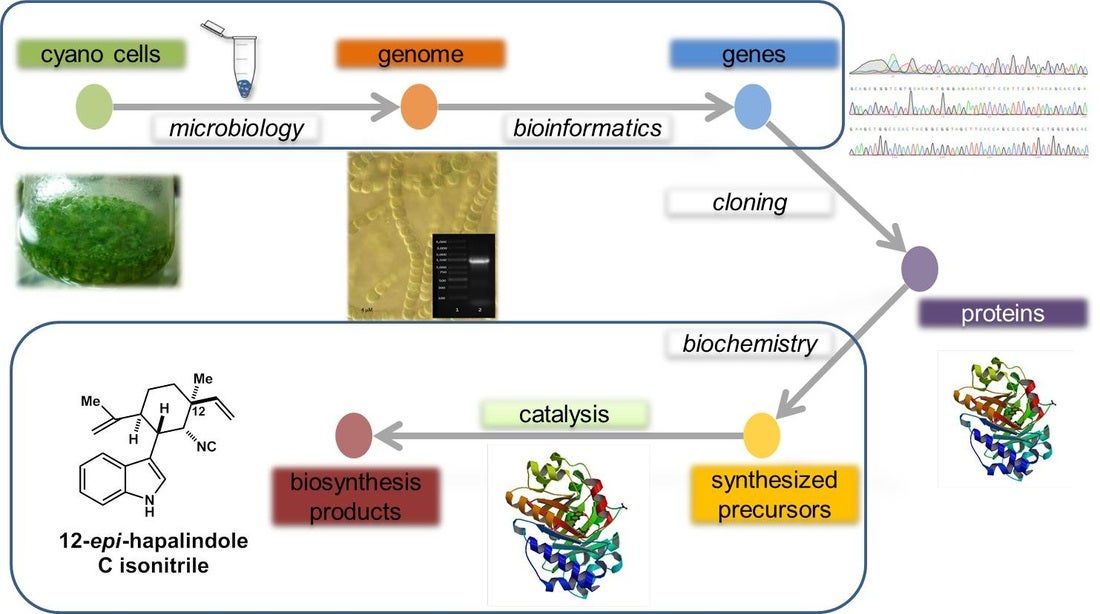 Selected Publications
Ignatenko, V. A.; Deligonul, N.; Viswanathan, R. "Branch-Selective Synthesis of Oxindole and Indene Scaffolds: Transition Metal-Controlled Intramolecular Aryl Amidation Leading to C3 Reverse-Prenylated Oxindoles", Org. Lett., 2010, 12(16), 3594–3597.
Labadie G. R.; Viswanathan R.; Poulter C. D. "Farnesyl Diphosphate Analogues with ω-Bioorthogonal Azide and Alkyne Functional Groups for PFTase-Catalyzed Ligation Reactions", J. Org. Chem. 2007, 72, 9291-9297.
Viswanathan R.; Smith C. R.; Prabhakaran E. N.; Johnston J. N. "Free Radical-Mediated Aryl Amination: Convergent Two- and Three-Component Couplings to Chiral 2, 3-Disubstituted Indolines", J. Org. Chem. 2008, 73, 3040-3046.
Srinivasan, J. M.; Burks, H. E.; Smith, C. R.; Viswanathan, R.; Johnston, J. N. "Free Radical-Mediated Aryl Amination: A Practical Synthesis of (R)- and (S)-7-Azaindoline α-Amino Acid", Synthesis (Practical Synthetic Procedures) 2005, 2, 330-333.
Viswanathan, R.; Mutnick, D.; Johnston J. N. "The First Azacyclopentenyl Carbinyl Radical Isomerizations (ACCRI): Independent Use of Steric and Electronic (Polarization) Effects as Gating Elements", J. Am. Chem. Soc. 2003, 125, 7266-7271.
Viswanathan, R.; Prabhakaran, E. N.; Plotkin, M. A.; Johnston, J. N. "Free Radical-Mediated Aryl Amination and its Use in a Convergent [3+2] Strategy for Enantioselective Indoline α-Amino Acid Synthesis", J. Am. Chem. Soc. 2003, 125, 163-168.
Johnston, J. N.; Plotkin, M. A.; Viswanathan, R.; Prabhakaran, E. N. "Nonconventional Carbon Additions to Azomethines. Aryl Amination/Indoline Synthesis by Direct Aryl Radical Addition to Azomethine Nitrogen", Org. Lett. 2001, 3, 1009–1011.
Mullins R. J.; Vedernikov A.; Viswanathan R. "Competition Experiments as a Means of Evaluating Linear Free Energy Relationships", J. Chem. Ed. 2004, 81, 1357-1361.