Graduate Programs in Chemistry
Graduate Program Ranked in National Top 25!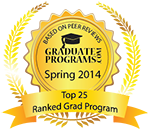 posted 2014-05-30
Our chemistry graduate programs have just been listed in the Top 25 by graduateprograms.com! These spring 2014 rankings enumerate the best graduate schools in the country in a variety of fields based solely on ratings and reviews from current or recent graduate students. Please click here for further details.
The Doctor of Philosophy (PhD) degree is awarded for the demonstration of advanced and critical knowledge of chemistry, the completion of an original research project, and the satisfactory defense of a thesis reporting and interpreting this work. The PhD is typically earned after approximately four years of full-time graduate study. Students are admitted into the PhD program on a full-time basis only. Advanced standing may be granted to students admitted to the PhD program who hold a masters degree in chemistry. It is not necessary to earn the MS degree to qualify for the PhD.
Learn more
Apply now!
Master of Science (MS)
The Master of Science (MS) degree can be earned either through a program of course work alone or through a program of course work combined with research and thesis. The MS degree is normally earned in two years or less. Course work toward the MS degree may be taken by part-time graduate students. MS thesis research may be undertaken only by full-time graduate students.
Unlike the PhD program, part-time students are accepted into the MS program. However, the first year of course work is in most cases essentially the same for both programs. Consequently an entering part-time MS student can readily transfer to full-time PhD study upon approval by the department. For more information on the MS Program, please contact the Graduate Affairs Coordinator (see below).
No financial aid is offered when applying for the MS degree.
Case Western Reserve University in conjunction with the Science and Technology Entrepreneurship Program (STEP). The program provides studies in technology innovation and state-of-the-art chemistry, practical business instruction, and real-world entrepreneurial experience to individuals with a bachelors, masters, or PhD in a chemistry-related field.
Each Chemistry Entrepreneurship student is paired with a Mentor/Advisor from the Department of Chemistry who serves as an academic advisor, long-term scientific resource, and connection to the world of technology commercialization and entrepreneurship. With the assistance of the STEP, the Mentor/Advisor connects students with people who are crucial to the success of start-ups and growing ventures, such as business leaders, executives, intellectual property experts, successful entrepreneurs, and venture capitalists.
Learn more »
Contact STEP »
The department offers a program in the Chemistry of Life Processes as well as collaborations with the departments of biomedical engineering, macromolecular science, pathology, materials science, pediatrics, and much more.
Aid and Fellowships
More Information
A more detailed description of the regulations governing the PhD and MS degrees is given in the University Bulletin. This and other information can also be obtained by request from June Ilhan (june.ilhan@case.edu) or by US mail from:


Graduate Affairs Coordinator
Department of Chemistry
Case Western Reserve University
10900 Euclid Avenue
Cleveland, OH  44106-7078
An application checklist and other requirements can be found on our graduate programs admission page.