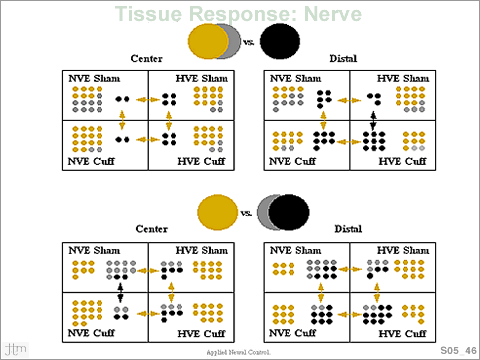 Upper panel: assumes that trace observations would not be detected, shown in the.
CENTER section
GOLD arrows indicate that there was no difference (at the 95% confidence level) in frequency of occurrence of damaged myelin between the sham and cuff implants and that vitamin E offers no protection for the dietary paradigm studied.
DISTAL section
There was a significant between the sham operated and cuff implanted nerve for the high vitamin E otherwise the was no significant difference between test groups.

Lower panel: assumes that trace observation would have been detected,.
CENTER section, Only the sham shows a significant difference.
DISTAL section, No significant difference between any of the test groups.

CONCLUSION Vitamin E offers no protection and the source of the trauma is either removal or replacement of the cuff and/or the mobilization procedure, probably the latter. The presence of the cuff is not the source of the trauma.