CWRU's IT service desk partner was named 2013 Outsourcer of the Year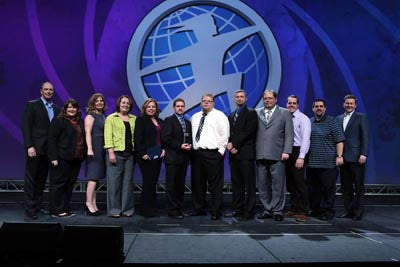 Case Western Reserve University's IT Service Desk partner CDI IT Solutions was named the 2013 Outsourcer of the Year by HDI (http://www.thinkhdi.com/) on Thursday, April 18, at its national conference in Las Vegas.
The CDI Enterprise Help Desk, located in Cross Lanes, West Virginia, is the provider of the university's 24/7/365 IT Service Desk and Network Operations Center. According to Dave Uhrin, Enterprise Support Leader for ITS, the "efforts in knowledge transfer, adherence to our ITIL/HDI-based methodologies in incident management, and the dedication of the CDI analyst and leadership teams forms a valuable and highly successful service offering for the campus community."
CDI received this award due to its commitment to excellence, efficiency and service quality based on the HDI Support Center Standard, developed by the HDI International Certification Standards Committee, which consists of more than 25 practitioners and experts from around the world. HDI is the world's largest membership association for IT service and support professionals.
The ITS Service Desk routinely receives approximately 3,500 requests for help each month. It reaches and exceeds its service level agreements by answering calls to 216.368.HELP (4357) within 20 seconds, resolving 80 percent of problems on the first call and maintaining a 4.5/5 customer satisfaction rate. "We are very pleased with CDI as a vendor partner," said Michael Kubit, Director of Run for Information Technology Services. "They [CDI] are terrifically collaborative and have become highly integrated with the university's IT community. CDI reflects our commitment to outstanding customer service as well as the continual improvement of what has already become a best-in-class service desk offering. I'm thrilled that the industry has recognized them for this effort."
Originally certified as an HDI accredited support center in 2007, the Enterprise Help Desk achieved renewed Support Center Certification in 2009 and again in 2011. The HDI Support Center Certification program was first introduced in 2000 and is the only globally recognized program for the certification of support center quality.