features
A CONVERSATION WITH...
Diana Bilimoria, PhD, KeyBank Professor and Chair of the Department of Organizational Behavior at the Weatherhead School of Management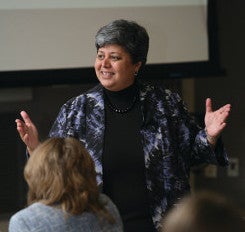 photo: John Quinn
Diana Bilimoria is internationally recognized for her leadership, research and service—especially in gender diversity and inclusion in organizational leadership and transformation. It's serious stuff, but the ebullient Bilimoria models the know-how and positive energy that has helped her students and mentees succeed. A native of Mumbai, India, she founded the Women in Leadership Certificate program at the Weatherhead School more than a decade ago, and, in 2014, co-founded a leadership development program for women in STEM (science, technology, engineering and mathematics) careers.
What prompted this passion for gender diversity and organizational behavior?
My doctoral dissertation [at the University of Michigan] was on corporate governance and the factors that predict how a corporate board of directors compensates, hires and fires a CEO. After I moved here as an assistant professor, Sandy Piderit, PhD (CWR '91), then a Case Western Reserve undergraduate, and I hypothesized that corporate boards are more likely to have women on certain committees—public relations, communications, social responsibility—and not on their executive, compensation or nominating committees. And that's what we found and published in an article in a top management journal as well as in The New York Times.
What did you make of that?
We made the argument that, even with regard to this most elite group of women, the underlying patterns of unconscious gender bias are so deeply embedded that they still operate at the highest levels. Subsequent to that, corporate boards started to assess how they assign people into their committees. It demonstrates the power of research to change organizational behavior.
You've also done quite a bit of research on the plight of daughters in family businesses.
That has come about through my work with Kathy Overbeke, DM (GRS '10, management), who came from a family business. We wanted to study daughters in family businesses because few make it to be the CEO.
What did you discover?
There's a dual operation of bias. One is the bias of the family itself—often the father—who cannot see the daughter as the CEO. The second is that the daughter is socialized into not seeing herself as the CEO. We also found that often a crisis precipitates a re-envisioning that propels a woman to senior leadership.
You and colleagues Kathleen Buse, PhD (GRS '12, management), and Ellen Van Oosten, PhD (MGT '94, GRS '13, organizational behavior), created Weatherhead's Leadership Lab for Women in STEM. Tell us about it.
It's a truly transformative program. We've had 16 women participate last year and 15 this year. Forty percent of the first cohort were either promoted or had expanded leadership responsibilities during and immediately after. They have said it's because of the program.
How difficult is it to empower women and men to change themselves and their organizations?
People are yearning to be given the opportunity to make change happen and to see themselves as leaders of change. I'm doing a MOOC [massive open online course] right now called "Women in Leadership: Inspiring Positive Change." We had more than 16,000 students registered from 180 countries. I have received emails from people all over the world, most recently a woman from Turkey who said: "I have been despondent. I couldn't imagine my life being different from the one I have. I take your MOOC and the first week I change. I see my dream job comes open. I never could have applied for this job, but your second week [of the course] told me I can. … I gained new insight and confidence in myself. I applied for and got the job."
How does that make you feel?
It was mind-blowing and humbling.
Is that why you teach?
This is why I'm in teaching now—for the transformative impact we can have in helping people reimagine the future, for themselves and others, to change the world for the better in the smallest or biggest of ways.