launch
VIOLINS OFFER RESILIENT REFRAIN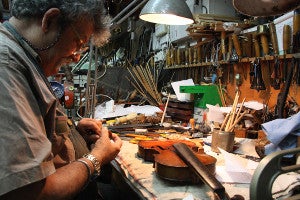 Photo courtesy of Debra Yasinow and the Jewish Federation of Cleveland
Every instrument holds a story.
Terror. Horror. Grief. And hope.
The violins Jews played in concentration camps provided comfort amid unimaginable evil. The music evoked welcome memories, offered escape from devastating realities and inspired faith that freedom could someday come. Seven decades later, some of these Violins of Hope have come to Cleveland.
Painstakingly restored in Israel by violinmakers Amnon Weinstein and his son and partner, Avshalom, the instruments were played during a historic Cleveland Orchestra concert at the reopening of Silver Hall, part of the first phase of renovation for the Milton and Tamar Maltz Performing Arts Center at The Temple – Tifereth Israel. The violins are being discussed in classrooms, viewed in exhibits and seen in films aired across the community—and will continue to be through Jan. 3, 2016.
And it all started when one longtime Clevelander mentioned to a dear friend about the violins' first visit to the U.S., for a much smaller program in North Carolina.
"Dick [Bogomolny] told me the violin story shortly after the Charlotte exhibit opened," Milton Maltz recalled. "Tamar and I were going to Tel Aviv. I said, 'I'll stop by and visit Amnon.' It was an eye-opening experience."
Richard "Dick" Bogomolny (ADL' 57) is chairman of the Musical Arts Association, The Cleveland Orchestra's parent organization. Maltz and his wife, Tamar, are founders of the Maltz Museum of Jewish Heritage, and, along with their family, are the lead donors for the performing arts center through the Maltz Family Foundation of the Jewish Federation of Cleveland.
"This may have been possible only in Cleveland," Bogomolny said, citing the partnership that emerged among seven major institutions, including Case Western Reserve and the orchestra.
"We agreed with [university President] Barbara Snyder to play the opening concert. Then we asked, what else might we do? … It kept mushrooming."
More than two dozen of the Weinsteins' instruments—violins, a viola and a cello—came to Northeast Ohio in September. Some are crudely carved with names. One contained ashes. Many are inlaid with the Star of David.
Amnon Weinstein was on hand for the inaugural concert and participated in other public events during nearly two weeks in the area.
"All the time in new cities, people are approaching me with a violin, with a story," he said. "Many people played in orchestras [under Nazi duress]. Many, when they came to safety, put the violin away. It was too painful."
Weinstein has begun or completed restorations of more than 55 instruments, dedicating his work to 400 relatives who perished during the Holocaust.
"We all know the power of music to create an emotional connection," said Bogomolny, whose direct engagement with the orchestra dates back more than two decades. "Amnon's original idea, which persuaded me, was that as long as music from these violins could be played and heard, the Nazi idea of wiping out a whole culture could never happen."
COMMUNITYWIDE PROGRAMMING
Violins of Hope Cleveland events continue through Jan. 3, 2016. The violins will be displayed at the Maltz Museum of Jewish Heritage. They also will be used in faculty recitals at the Cleveland Institute of Music and a community concert by The Cleveland Orchestra. The university will host a lecture on writing Holocaust history. In December, 14,000 area students will attend Cleveland Orchestra education concerts at Severance Hall, tied to new Holocaust curricula.
The program partners are: Case Western Reserve, Cleveland Institute of Music, The Cleveland Orchestra, Facing History and Ourselves, ideastream, Jewish Federation of Cleveland and Maltz Museum of Jewish Heritage.
For a listing of events and supporters, visit violinsofhopecle.org.