LENS Sports
A Dual Threat
Spartans Quarterback's Potent Attack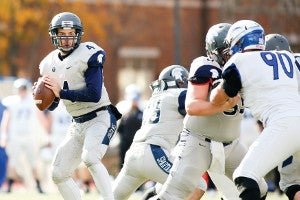 PHOTO: ALEX SLITZ
As a finance and marketing major at Case Western Reserve, Rob Cuda has learned plenty about assessing risk—specifically, whether the potential of a certain business opportunity is worth its possible downsides.

When he claimed the starting quarterback role as a sophomore last fall, Cuda quickly began applying his classroom lessons to the gridiron. Equally comfortable passing and carrying the ball, he had multiple options for every play. Last season's choices led to 36 touchdowns (28 passing, the most for all Presidents' Athletic Conference quarterbacks, and eight rushing), a 59.9 percent pass completion rate and 334.6 yards per game last year.



"Rob is smart and picks up complex concepts quickly," said head coach Greg Debeljak. "He's immensely talented and so successful because he's able to run and think on his feet while taking acceptable risks for even greater rewards."

The early success led to media coverage in Cleveland and Cuda's suburban Chicago hometown, as well as All-University Athletic Association and All-Presidents' Athletic Conference First Team designations. In December, he was one of two Spartans named to D3football.com's all-region team.

"Early last year, the coaches put their trust in me and gave me freedom to expand my game and make my own decisions," Cuda said. "I was also surrounded by experienced players who helped with their ability to make plays."

The quarterback enters the 2016 campaign no longer able to surprise opponents with his skills. But with a full season's experience as a starter, plus additional business courses to hone his analytic skills, Cuda still might be able to shock a few defenses.

"His teammates believe that he can take them to victory," Debeljak said.
SPORTS BRIEFS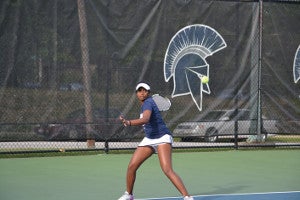 Case Western Reserve sophomore Nithya Kanagasegar was named the University Athletic Association Most Valuable Player in April. She was undefeated at the 2016 conference championships, becoming the first CWRU women's tennis player to receive the honor.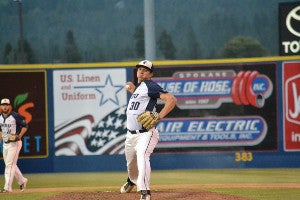 PHOTO: CWRU SPORTS INFORMATION
The Case Western Reserve baseball team qualified for the NCAA Championships for the third time in the last four years, finishing the year with a 26-15 overall record.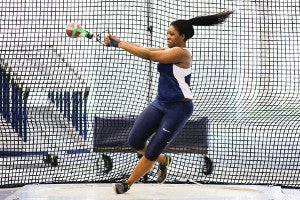 PHOTO: ALEX SLITZ
Case Western Reserve's men's and women's track & field teams set 18 school records during the 2015-2016 school year. Athletes, including Temi Omilabu (pictured), won five individual UAA Championships and 23 all-conference honors.