MESSAGE From the President
Ever an Inspiration
Residence Hall Named for Beloved Alumna and Trailblazer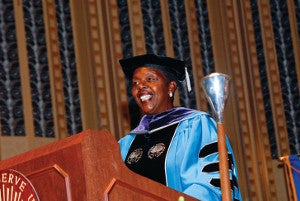 PHOTO: DANIEL MILNER
When the late Congresswoman Stephanie Tubbs Jones, JD (FSM '71, LAW '74), spoke at my investiture nine years ago, she shared how blessed she felt to have attended Case Western Reserve.

Some graduates never set foot back on their campus, she explained. "I live right across the street!"

That street was Wade Park Avenue, just across from athletic fields and student housing. The location was apt: Tubbs Jones had lived on campus as an undergraduate and also as a resident assistant while earning her law degree here.

Now her legacy will continue on our side of Wade Park, as we christen our newest residence hall with her name during homecoming weekend. The recommendation for the designation came from the #webelonghere student group, which cited her accomplishments as an inspiration to today's underrepresented students.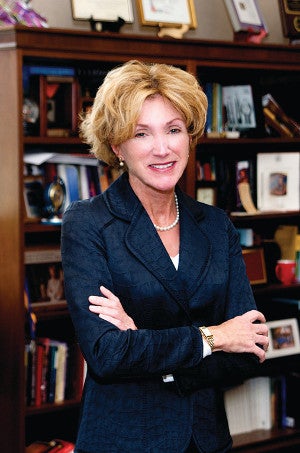 It's easy to see why.

After earning her degrees here, Tubbs Jones went on to become the first African-American woman to serve as an Ohio Common Pleas court judge; the first African-American woman to be an Ohio county prosecutor; and, in 1998, the first African-American woman elected to represent Ohio in Congress.

By 2008, she was chair of the U.S. House of Representatives' Ethics Committee and a member of the powerful Ways and Means Committee—and also had earned several national leadership positions within her party. That August, a brain aneurysm took her life. She was 58.

Even all of these years later, it is difficult to accept that Tubbs Jones is no longer with us. She always had such energy, such an innate ability to engage others and instill optimism. During her remarks nine years ago, she emphasized the importance of role models for young people.

"Once they see a positive example of what they can become," she explained, "their possibilities for the future are limitless."

She is one of those examples. We are honored that future generations of students will live in a building that bears her name.


Barbara R. Snyder
President

P.S. This issue of Think represents the magazine's first major design update since 2008. We hope you like what you see.