MESSAGE
Welcoming Great Minds
Students from Across the Globe Invigorate Our Campus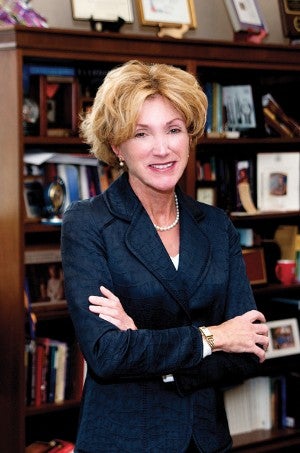 Case Western Reserve University had a decidedly international flavor this summer.
From the 25 young African leaders who visited us for six weeks, to the nearly 1,300 international admissions representatives who stayed for five days, people from more than seven dozen countries spent time on our campus.
Such global diversity is unusual here in June and July, but not at all during the school year. This August, for example, we welcomed first-year undergraduate students from 41 countries; their numbers totaled about 14 percent of the entering class.
It hasn't always been this way—just a decade ago, the first-year international figure was 3 percent. But that same year, our community made "internationalization of the campus" one of the priorities of our strategic plan. Since then, our university-wide international student population has nearly doubled, our global research partnerships have expanded dramatically, and our percentage of undergraduates studying abroad has more than doubled—to nearly 50 percent.
This issue of Think includes two features with obvious international ties. One (page 5) includes campus recollections about responses to the White House travel ban and
its aftermath. The other (page 26) highlights some of the people who were here this summer through the U.S. Department of State's Mandela Washington Fellowship for Young African Leaders.
But these aren't the only examples in the magazine. Renowned Down syndrome researcher Alberto Costa (page 42) hails from Brazil and is leading a clinical trial that includes people from Cleveland and São Paulo. Alumnus Austin Fragomen (LAW '68) discovered his passion for international law on our campus, and now leads a 3,000- person immigration firm (page 6). The new dean of the Weatherhead School of Management grew up in India and one of his faculty members studies Chinese-American business relations (both stories on page 24). And so on.
"Knowledge and understanding have no boundaries."
Provost Bud Baeslack and I wrote those words Jan. 29 in an email to the campus community regarding the travel ban. Ten months later,they ring just as true.We all benefit from the perspectives of others; indeed, research shows that more diverse teams actually outperform others in problem solving. The challenges we face today demand our best ideas, and we welcome great minds no matter where in the world they begin.
Fortunately for us, national debates and federal court cases have not dissuaded smart international students from considering Case Western Reserve—at least so far. One of our entering first-year undergraduates noted that he came all the way from Perth, Australia—"a 16-, 17-hour flight." Why?
"It's a really good school, obviously," he explained during orientation. "[It] just made a lot of sense to come here."
We like the way he thinks.

Barbara R. Snyder
President