LENS
A Penchant for Patient Advocacy
Student earns national nursing award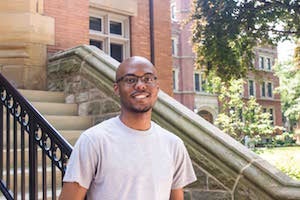 PHOTO: Katie Laux
Edward Bennett Jr. always knew he wanted to advocate for people, but after a summer internship in 2015, he realized he wanted to do so not as a physician, but as a nurse.
Since then, the Case Western Reserve senior has accumulated nearly 1,000 clinical hours in nursing, worked on multiple research projects, volunteered at local health fairs and become the youngest board member of the Cleveland Council of Black Nurses.
For all this and more, the National Black Nurses Association (NBNA) named him its Student of the Year in June.
The award recognizes students who have achieved academic success, are active in the organization and have a clear purpose and sense of direction.
"A student like Edward stands out among all students," said Eric J. Williams, DNP, RN (NUR '07), NBNA's president. "He has a very bright future."
A Buffalo, New York, native, Bennett arrived as a first-year student planning to major in political science, secure advanced degrees in medicine and law, and then pursue a career as a physician working with underserved populations.
But a summer program at Duke University that partly involved shadowing health care professionals changed his outlook.
"Everywhere I looked, there were nurses and nurse practitioners doing exactly what I wanted to do: interacting with the patient, advocating for the patient and having that really hands-on experience," said Bennett, a student at Frances Payne Bolton School of Nursing.
He's since done clinical rotations as part of his nursing program at several local hospitals and is working as a clinical technician at Cleveland Clinic, assisting nurses with daily care, taking vital signs and transporting patients. It's all provided valuable experience and skills for both listening to and speaking up for patients.
After meeting a man with sickle cell disease who felt his voice wasn't heard in certain health care settings, Bennett took it upon himself to talk with physicians about whether there might be new options for addressing such concerns.
"That experience really made me see how I could use my nursing knowledge and skill set and be an advocate for patients with this disease," he said.