Alicia Sanchez
// Google Marketer // CWR '10 // 25 //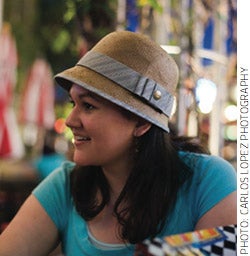 After applying for an internship, Alicia Sanchez was stunned—and thrilled—when Google offered her a post-graduation position in the middle of her junior year. The management major immediately accepted, without even waiting for the job description.
Three years later, Sanchez is a platform solutions consultant for Google's DoubleClick, which develops and provides Internet advertising services and performance reports to companies around the globe.
"We help our clients understand all of the services and features DoubleClick provides," Sanchez says. "Our products are being released quickly, which makes it rewarding to be able to make a difference in our clients' business in such a short timeframe."
Sanchez, who is fluent in Spanish and whose interest in international business grew while studying abroad in Barcelona, recently became team leader for a small group seeking to expand DoubleClick into the Latin American market.
While Sanchez helps her clients plan advertising and, ideally, future expansion, she hopes to carve out more business—and an opportunity for career growth—at Google in Latin America