Cara Berg
// Women's Health Advocate // NUR '09, '11 // 27 //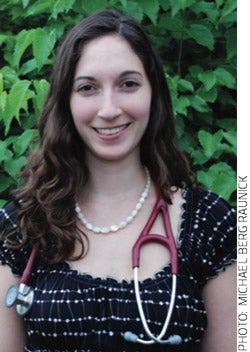 Cara Berg was moved to help victims of interpersonal violence when her close friends were abused in high school and college.
Since then, she's focused her career on helping women obtain needed health care and services.
After earning her degree as a women's health nurse practitioner and certification as a sexual assault nurse examiner, she joined Planned Parenthood in Canton, Ohio.
"There are a lot of women out there who need health care," she says. "We're providing basic, foundational health care to women who otherwise wouldn't be able to afford it."
Berg also has been instrumental in affecting policy, helping start a coalition of health care providers aiming to address HIV prophylaxis—preventive medical treatment that starts immediately after exposure to prevent development of the disease—for survivors of sexual assault.
Berg, who recently accepted a job with Planned Parenthood of Indiana and Kentucky, is working toward a doctorate in nursing practice at Case Western Reserve. Her scholarly project focuses on vicarious trauma experienced by sexual assault nurse examiners. —Lee Chilcote