Cody Wood
// Rising Star // CWR '08 // 29 //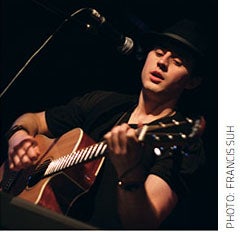 The day Cody Wood walked across the stage at commencement, he walked into a new career.
Hours after graduating with dual degrees in biomedical engineering and music, he appeared as Bing Crosby in a production of the musical A Tribute to the USO in North Canton, Ohio. About six weeks later, he headed to California, landed an agent and began a performance career that draws on all of his skills—even the engineering ones.
Engineers know how to consider options, stay organized and solve problems, Wood explains; he brings an analytical approach to deciding which offers to pursue when.
So far his credits include a lead role in the unreleased independent film Terezin, about life in a Czech concentration camp during World War II. He also had a small part in Cookie Monster, an upcoming Hallmark Channel family film. Earlier this year, he played violin behind The X Factor winner Tate Stevens in a music video for Pepsi. He's producing songs for two new artists and working on a music video for his song "Back House."
Wood also is a realist: he may yet use that engineering degree later. "You never know how big your window is going to be in entertainment." —RM