Donte Gibbs
// Youth Mentor // CWR '10, SAS '12 // 25 //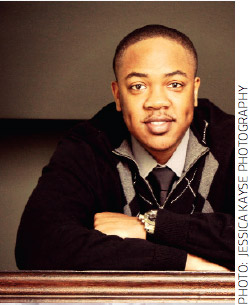 Donte Gibbs came to Case Western Reserve certain he wanted to become a pediatrician. Until he wasn't.
"I found myself taking sociology and being really in tune to it," he says.
Gibbs, who had never before been exposed to the subject, discovered how social sciences could rebuild communities and help people in ways that medicine couldn't. He went from preparing for pre-med to majoring in sociology, and then choosing the Jack, Joseph and Morton Mandel School of Applied Social Sciences for his master's degree—specifically its community and social development track.
"As I got more engaged in it, the more I enjoyed it," says Gibbs, who served as president of the Mandel School's Black Student Association and tutored and mentored area youth in his spare time.
After graduation, Gibbs landed part-time work with the Slavic Village-based Neighborhood Leadership Institute, a nonprofit leadership development and community engagement organization affiliated with the Cleveland Foundation. Three months later, he was promoted to full-time director of youth engagement, where he works with high school students, many of whom struggle with self-esteem and behavioral issues.
"When they're talking to you about their problems," he says, "you can really just see yourself in their eyes."
Gibbs also serves as an East Cleveland Police Athletic League mentor and board secretary of the Fairfax Renaissance Development Corp., a nonprofit neighborhood improvement group, where he interned while at the Mandel School. —BL