Esther Erb
// Olympic Hopeful // CWR '08 // 27 //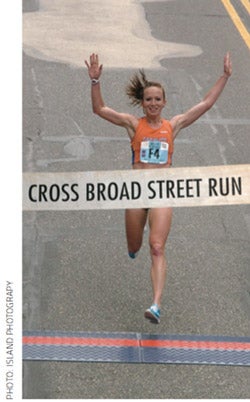 Last year, Esther Erb had the honor of singing the national anthem at the United States Olympic Marathon Trials.
Then she ran the race.
She set a personal best by two minutes, finishing 27th among the top runners in the nation. Erb managed the athletic accomplishment even though she ran only a single season of high school track; her energies then had been focused on singing and playing the cello.
Even as Erb ramped up her athletic interests as an undergraduate, she continued her commitment to music and academic excellence. In college, she qualified for nine national meets, earned six All-American finishes and won the national championship in the 10,000-meter run. She also double-majored in music and cognitive science, and conducted research on the impact of music on athletes' perceived levels of exertion.
After a two-year stint abroad on a Fulbright scholarship and three years of professional running with the Zap Fitness Foundation, Erb again is seeking diversity in her activities. She wants to coach running at the collegiate level and earn a graduate degree. "With my background at [CWRU] and as a Fulbright scholar," she says, "I see myself as more than just a runner."
Erb's interest in coaching stems from a desire to help others reach the national stage. The graduate degree appeals because she also may want to pursue professional work in the running industry.
Next up, though, are the U.S. Marathon Championships in Minneapolis-St. Paul in October. Last year, she finished seventh in the Twin Cities race among more than 3,600 female runners. This year, she has a top-five finish in her sights. —RM