Geoffrey Peyton
// Robotics Engineer // CWR '10 // 27 //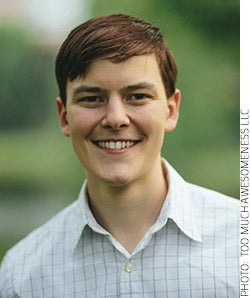 Geoffrey Peyton has spent the past two years designing robots for Boston Dynamics through a contract with the Defense Advanced Research Projects Agency, or DARPA. His main project is the "Cheetah," a running robot that has reached speeds of up to 30 miles per hour with all four legs off the ground.
"Really, we're aiming to find out what it takes for a robot to interact in our world," he says, citing science fiction movies such as Star Trek and Star Wars as childhood influences. "Most robots walk very slowly, but our cheetah is now galloping."
Ultimately, Peyton's work could be used not only in the military, but also in health care and other industries.
"We're on the cusp of robots working in human environments," he says.
While an engineering major at Case Western Reserve, Peyton was president of the student chapter of Engineers Without Borders. He started a project to install a new water system for the village of Cruce de Blanco in the Dominican Republican that fellow students recently completed.
"To see the impact a motivated group of people can have is tremendous," he says. —lC