JEff Verespej
// Urban Activist// CWR '07, MGT '11 // 28 //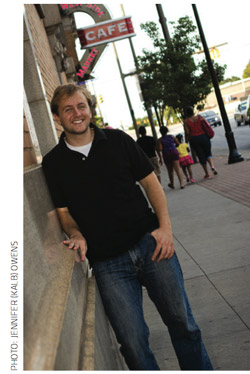 Jeff Verespej and his wife go days, even weeks, without their 2005 Acura ever leaving their Cleveland garage. He walks to work; she takes the rapid. They shop nearby at the West Side Market.
Verespej fostered a passion for city life—and especially community and economic development—as a Case Western Reserve student intern for University Circle Inc. After graduation, he made it his profession.
As director of operations for the nonprofit Ohio City Inc., Verespej manages projects that enhance and drive investment in the near West Side neighborhood.
"Our mission as an organization," he says, "is to develop, preserve and promote historic Ohio City."
No small feat, Verespej convinced more than 150 property owners to create and contribute to a Special Improvement District that employs "ambassadors" who walk the streets daily to make the neighborhood cleaner, safer and more appealing.
Next up: Verespej, who also founded and is president of the university's year-old Cleveland alumni chapter, is leading a green streetscape plan for Lorain Avenue, a corridor that traverses every West Side neighborhood.
"It's almost done," he says.
"Implementation could begin as early as next year." —BL