Jiajia "Veronica" Xu
// Immigration Counselor // LAW '08 // 28 //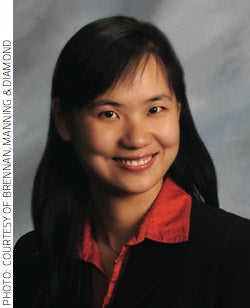 Veronica Xu spends much of her workdays helping American companies understand the business and cultural differences between the United States and China.
After hours, she volunteers with local immigrant groups to explain how to launch businesses and secure legal rights in this country.
Her preparation for these dual roles began when she was a child in China taking mandatory English courses. Xu earned a law degree in China, then came to Case Western Reserve's School of Law on a merit scholarship to obtain her master of laws degree. Today, she is an associate at Brennan, Manning & Diamond in Akron, Ohio. This year, the firm opened a Shanghai office headed by 2007 School of Law graduate John Tang.
Meanwhile, she helps immigrants establish businesses here and organizes free seminars in the Cleveland area on business development, taxation, estate planning and health care. She also offers tips to clients and others about Chinese culture, history, values and business etiquette.
"It's really all about the American Dream," she says. "It's so powerful." —Roger Mezger