John Lewandowski
// Disease Eradicator // CWR '12, GRS '13 // 23 //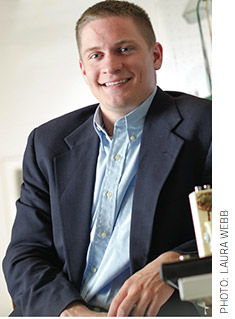 His elevator pitch—"What if I told you I could save a million lives every year with just refrigerator magnets and a laser pointer?"— gained almost as much national exposure as investor attention.
Now, recent graduate John Lewandowski and his partners in the student-born university startup, Disease Diagnostic Group LLC, are primed to test that promise and their product. The Rapid Assessment of Malaria device, or RAM, is designed to diagnose the disease faster, cheaper and more accurately than other methods.
Lewandowski and his partners—younger brother Mark, a sophomore at the university, and Brian Grimberg, assistant professor at the School of Medicine—recently raised $250,000 for initial prototyping and field testing in Peru this fall.
"If I had predicted we were going to be this far last year, I would have been lying, because things have really picked up," he says. "It's moving extremely fast."
Conceptualized a few years ago in Grimberg's lab, the device had to be reduced in size from tabletop dimensions to those of a pants pocket. The hand-held RAM detects a magnetic substance malaria parasites release when digesting red blood cells.
The idea scored well in several business competitions, including a top-10 finish in the prestigious Rice University Business Plan Competition, drawing national media coverage and investor interest.
Businesswise, the potential is vast. But Lewandowski, who became interested in battling malaria during his senior project, is thrilled the venture represents commerce with social value. "I'd rather see the world progress as a whole." —BL