Naizhou "Yaya" Zhang
// Ad Exec // CWR '11 // 27 //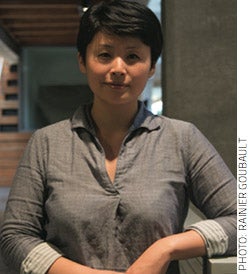 Yaya Zhang likes to say she suffered "a quarter-life crisis" as she entered her senior year at the Weatherhead School of Management. After two summer internships in New York, she realized fashion management wasn't for her.
From that temporary "What now?" panic sprung an advertising career that feeds her artistic and logical sides—a transition inspired through friendships with Cleveland Institute of Art students, her own research and a lead about an internship with the Shanghai office of Wieden + Kennedy, the agency best known as the brains behind Nike's ubiquitous "Just Do It" slogan.
Zhang turned the internship into a career. She's now an account executive at the firm's Portland, Ore., office, where she enjoys the problem-solving aspects of her work and nurturing ideas through writers, designers, clients and more.
Among her account team's roster of high--profile clients is Old Spice, a familiar brand reborn through a campaign of YouTube videos that went viral—an approach that emerged from the agency's philosophy of "fail harder, don't act big, and walk in stupid."
"You're there from the start to finish, so it's kind of emotional when you see your work on TV," she says. "The work that we create here becomes a part of pop culture. That's pretty cool." —BL