Alex Yakubovich, Stan Garber, Oleg Fridman
// Online Innovators // CWR '07 // 27, 29, 27 //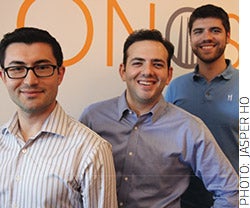 Oleg Fridman, Stan Garber and Alex Yakubovich were well aware that three friends going into business together risked the venture and their friendship.
"Honestly, everyone told us it was a terrible idea," says Fridman, who studied computer science at Case Western Reserve.
So far, they've proven everyone wrong.
Fridman and Garber met when they were 6 and 7 years old, respectively, after their families emigrated from the former Soviet Union and moved to the same suburban-Cleveland apartment complex. In high school, they met Yakubovich, also an immigrant from Russia, and the three formed O-Web Technologies, a web design and development firm that grew exponentially when the three headed to college at Case Western Reserve.
The trio went door-to-door around Cleveland looking for business. "We were really cute. We put on a shirt and tie and everything," quips Yakubovich, a mechanical engineering major. By graduation, they had developed sites for about 150 clients.
In 2005, Rascal House Pizza hired them to build the University Circle location's new website—and create an online ordering system from scratch. For the next two years, the trio set out to perfect their system, holding student focus groups in the basement computer lab of the Peter B. Lewis Building. They occupied an extra office in what is now Alumni House and, occasionally, missed classes for client meetings. They picked up the local Quizno's and Georgio's locations for online ordering systems as well.
Their work drew the attention of Bob Sopko, now director of the university's Blackstone LaunchPad entrepreneurship program, who connected them with Zapis Capital Ventures, located just outside Cleveland. Days after the three received their bachelor's degrees, Zapis offered to invest $500,000 in the online-ordering platform. The group established offices in a warehouse on East 40th Street, and the business—now called ONOSYS—took off. Today, ONOSYS counts chains such as Panera Bread, Papa John's and Applebee's among its clients.
In 2012, daily-deal provider LivingSocial bought the company for an undisclosed sum. Now ONOSYS, which employs 30 people and has moved to a larger office in Cleveland's Warehouse District, supplies online-ordering software to 50 major chains with 8,500 locations. The company is looking to expand to serve independent restaurants, a market Garber says they couldn't reach without the depth of LivingSocial's sales force.
The process has taught them what it means to be managers and what it takes to grow a company successfully. Most importantly, the trio has realized the importance of persistence. They recall standing outside former university President Edward Hundert's office for three hours, waiting for a chance at an impromptu meeting. When Hundert returned to the office, he met with them for half an hour and linked them with the Office of Technology Transfer, making a crucial connection.
"You have to want the help and ask for it," Fridman said.
"But you still have to go make it happen," added Garber, a management graduate. "Nothing's going to be given to you. But once you ask, everybody's open to helping you." —EM