Philip Niles
// Medical Visionary // CWR '07, MED '12, MGT '12 // 27 //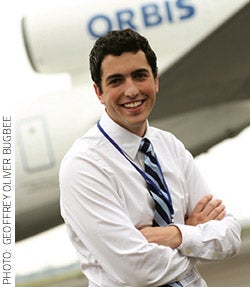 Philip Niles earned his bachelor's, master's and medical degrees from Case Western Reserve in just eight years—minus the six months he "took off" to work as a consultant on an airplane-turned-eye-hospital that provides ophthalmological training to medical professionals and direct care to patients in the Philippines, Myanmar and Vietnam. Now, as a resident in the University of Iowa's Department of Ophthalmology and Visual Sciences, he's putting his overseas training to use stateside.
Niles also is using the lessons of his medical education in the clinic and the lab: He was first author on a paper in the esteemed journal Eye, in which he studied the rate of macular and retinal thickness changes in patients with and without glaucoma. He presented his findings at the Association for Research and Vision in Ophthalmology's annual conference—his first major talk since speaking about open-source data in medical research to a sold-out TEDxCLE crowd in 2012.
Applying his management degree, Niles took his researcha step further, building a model to analyze the cost-effectiveness of machines that measure macular thickness. Many doctors suffer sticker shock over the high pricetag of such diagnostic equipment, Niles says, but he found the machine almost always pays for itself because of Medicare reimbursements.
"The cost of the machine," Niles says, "should not be a barrier to providing patients with the proper care." —EM