Tasha Hall
// Smile Saver // DEN '11 // 28 //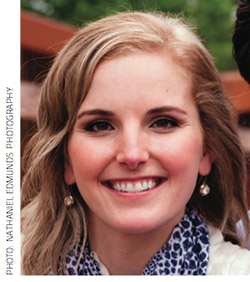 After dental school, Tasha Hall returned home to Indiana to earn a master of science in dentistry with an orthodontics major. But during her residency, her career path took a detour after she helped treat several children with severe facial deformities.
Last month, Hall returned to Case Western Reserve and University Hospitals Case Medical Center to begin a fellowship in craniofacial, surgical and special care orthodontics—among the first accredited fellowships of its kind at a U.S. dental school.
Craniofacial deformities, such as cleft lip and cleft palate, take years to correct; treatment can stretch into adulthood. Hall will be part of a team of specialists who meet with parents shortly after birth to plan long-range therapy.
The cases are difficult, clinically and emotionally, for both patients and parents. The youngsters "are little heroes" for all they endure, she says, while the parents may need encouragement and reassurance.
That deeply personal connection to cases "gives you a great sense of accomplishment," Hall says. Before experiencing that feeling, straightening kids' teeth might have been enough for her.
Now, once her fellowship ends, she hopes to continue treating children as part of a craniofacial team.
"You can dramatically impact their lives," she says. "It feels very good." —RM