Vinny Bell
// Soccer Standout // CWR '12, GRS '13 // 23 //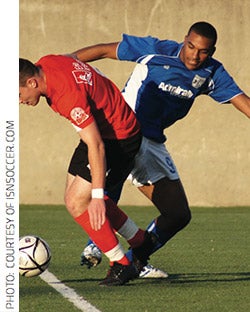 Vinny Bell is already a top performer in his field—or in this case, on the pitch.
The Weatherhead School graduate (pictured in blue jersey) is a semi-pro soccer forward for the AFC Cleveland Royals of the National Premier Soccer League.
A former two-time National Soccer Coaches Association of America All-American soccer star at Case Western Reserve (who also played wide receiver on the Spartans football team), he was named the league's Player of the Week this season after scoring three goals in two games.
And this month, Bell is set to begin his business career in the audit department of the downtown Cleveland office of PriceWaterhouse Coopers LLP. The soccer league plays a summer schedule, with evening practices and games on weekends, which shouldn't conflict with his "real" job.
But soccer and accounting? Sounds like an episode from When Worlds Collide, although Bell doesn't see it that way.
"They kind of overlap because they both have intellectual requirements, they both require a lot of ambition and competitiveness," he says. "So I consider them more the same than different. Plus, the biggest overlap is you live and die by your team." —BL