Launch
Grad Student Creates Scholarship to Inspire Young Black Males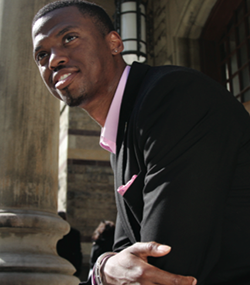 When JeShaune Jackson graduated from Bedford High School in 2006 with a 2.4 GPA, he went on to play basketball at Defiance College because that's what he knew.
"I didn't venture off to find too many other careers," he says. "I went off what I saw around me."
But what he saw changed dramatically. While shadowing Charles Webb, a doctor at Cleveland Clinic's South Pointe Hospital, Jackson realized medicine was his calling. That meant he had to get serious about academics. He quit the basketball team and transferred to Bowling Green State University.
Jackson is now a full-time graduate student at Case Western Reserve, working toward dual master's degrees in entrepreneurial biotechnology and business administration. He hopes to attend medical school when he graduates in 2014.
But just as important to Jackson is ensuring other young black males have role models beyond the athletes they see on TV. He wants to push them, to show them they have options and opportunities—just like his mentor, Webb, did for him.
This spring, he started the JeShaune D. Jackson Scholarship at his high school alma mater. The reward is unique in that recipients must have a GPA lower than 3.5, a restriction to attract talented students who might simply need extra guidance, like he did.
Through the scholarship, Jackson mentors the winners personally and coordinates meetings for them with African-American researchers from the university.
Originally, Jackson also provided the first winner, Taylor Williams, a $250 scholarship —a significant sum for a full-time student to give. But after his story was told in The Plain Dealer, readers immediately stepped forward to help. Within a week, donors had pledged $1,800 toward Jackson's scholarship fund, allowing him to award and mentor several students each year.
"It's about putting more weight on someone's shoulders than they really think they can bear and showing them they can do this," Jackson says. "That's what my mentor did for me, and that's what I want to do for others."