Launch
Persistence Pays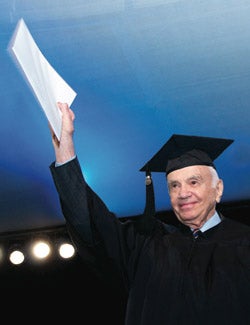 Every one of the 2,000 graduates who walked across the stage at commencement this spring had a special story about the journey to a diploma. But only Morton Mandel could offer an account where the trip took 74 years.
Mandel began his studies with a scholarship from Adelbert College in 1939, but his formal education was interrupted when he and his brothers, Jack and Joseph, launched an auto parts company. Soon after, he enlisted in the U.S. Army. Mort returned to the business after World War II, and the fledgling effort ultimately blossomed into the Premier Industrial Corp., which was part of a $3 billion merger in 1996. The brothers also created the Jack, Joseph and Morton Mandel Foundation, a philanthropic endeavor that has benefited people worldwide.
Yet even after such career success, Mandel still was committed to earning his undergraduate diploma. He completed his senior capstone project—his book, It's All About Who—and presented the work to a panel of faculty members.
"I am delighted to say, he passed!" President Barbara R. Snyder announced during commencement.
President Snyder also welcomed four others to the stage for honorary doctorates: op art pioneer Julian Stanczak; international law expert Christine Van den Wyngaert; famed architect Frank Gehry, who designed the Peter B. Lewis Building for the Weatherhead School of Management; and Lewis himself.
The chairman of Progressive Insurance and a renowned philanthropist, Lewis also gave the commencement address, encouraging the graduates to challenge conventional wisdom. His advice to the Class of 2013: "Find work you enjoy. Have fun doing it. Keep playing with the openness of a child. Experiment with your passions."