How do you revitalize an urban core?
Question 6.0 (2/22/2011):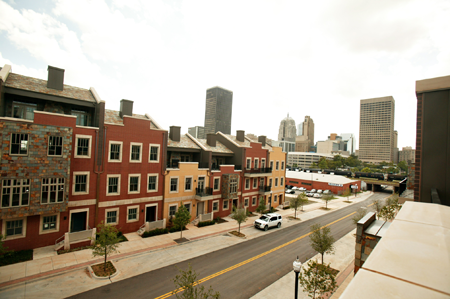 Which of the following is NOT a major federal urban initiative in the United States?
The answer was B: Urban Revitalization Sites.
Choice Neighborhoods, Empowerment Zones and Model Cities are each official names of major federal initiatives to address urban poverty.
Model Cities was launched under President Johnson in the 1960s; Empowerment Zones were launched under President Clinton in the 1990s; and Choice Neighborhoods is being launched by President Obama.
An Urban Revitalization Sites initiative does not exist. Although it may be confused with Urban Development Action Grants, a major federal initiative under President Carter.
Question courtesy of Mark Joseph, PhD, associate professor and faculty associate for the Center for Urban Poverty and Community Development. Want more to think about? Read about Joseph's research on schools' roles in revitalizing neighborhoods and about the success of mixed-income housing.

Week Six Stats
How did you do? Stats: 147 people submitted answers for Question 6.0, 17 contestants selected the correct answer. Average time to correctly answer: 40.8 seconds. Fastest time? Seven seconds. Check out last week's top 10 players or visit the leaderboard totals for February.
Take a shot at the next question, will be posted on Tuesday, April 26, 2011. See other past questions and answers.