launch
Major League Interest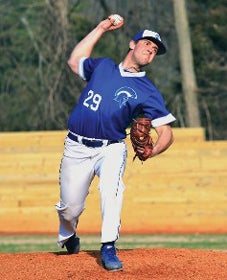 photo: Carol Cain
Junior Rob Winemiller didn't expect Case Western Reserve to serve as a springboard to professional baseball.
But now, the right-handed relief pitcher is being scouted by Major League Baseball (MLB) teams. By mid-March, Winemiller says, about two dozen teams had expressed interest.
That means the Spartans' co-captain could be chosen in the MLB draft in June, which would make him only the second player from the university drafted. (The Oakland Athletics selected third baseman Eric Macha in 2003.)
What makes the interest in Winemiller even more remarkable is that he switched to pitching from catching for the Spartans just this season. He and his coaches decided he had a better chance to make the pros as a pitcher after a strong performance on the mound last year in an amateur summer league, where his fastball was clocked at 95 miles per hour.
Earlier this year, the website perfectgame.org ranked Winemiller as the nation's top Division III prospect and among the top 300 overall draft prospects.
Winemiller is amazed. "I didn't come to [CWRU] with the expectation of playing professional baseball," says the 6-foot-1-inch, 190-pound Winemiller, an accounting major from Twinsburg, Ohio. "I came to get a great education."
Case Western Reserve head coach Matt Englander isn't surprised by the 21-year-old's success—even though this is the first season Winemiller has pitched regularly since eighth grade.
"He's gone from a talented kid to essentially a grown man who works his tail off and who is a great teammate,'' Englander says.
Through late April, Winemiller was 1-0 with one save, a 2.76 earned run average and 15 strikeouts in just more than 16 innings pitched, helping the Spartans to a 28-8 record. Winemiller and the team hope to advance to the Division III College World Series in late May.
"This team could be something really special," he says, "and I'm just glad to be a part of it.'' —Susan Valerian