discover
Lifesaving Project Takes Flight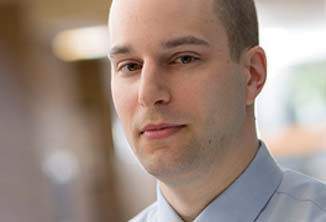 photo: Russell Lee
As a boy, Andrew Reimer watched as a Life Flight helicopter landed on a highway and whisked away a car crash victim.
"I thought how cool it was that you were able to do that kind of work for a living," says Reimer, PhD, who later became a flight nursing instructor at the Frances Payne Bolton School of Nursing and a flight nurse at Cleveland Clinic.
But as Reimer spent time on transport helicopters, he saw that some patients didn't benefit from being moved. Sometimes, they died.
In fact, several studies conducted by researchers in other states during the last 15 years show that patients transferred with non-urgent medical conditions—because of a family request or to move to a larger hospital, for example—have at least a 30 percent higher death rate than had they stayed put.
Reimer and a team of six colleagues from the medical and engineering schools won a $500,000 grant from the National Institutes of Health to determine how to reduce the death rate.
They are taking local data from numerous sources, including the admitting hospital, helicopter transfer and destination hospital—information often generated using different computer systems—and loading it into a digital template they developed.
Thanks to sensors developed by Kiju Lee, PhD, the Nord Distinguished Assistant Professor in mechanical engineering, the team will track noise, vibrations and temperature on a flight.
Their goal is to identify patterns that indicate a negative outcome for a patient who is moved.
"We want to be able to talk to the families and say, 'This may not be the best option for you, for these reasons,'" Reimer says. —Susan Valerian
Learn more: