launch
Raising the Bar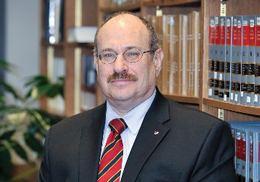 photo: Roadell Hickman
More than 60 years ago, a forensic pathologist, a coroner and a law professor created the nation's first health-law program based at a law school.
Today, that program—the Law-Medicine Center at the Case Western Reserve School of Law—remains one of the country's best, recently claiming the No. 3 ranking in U.S. News & World Report.
The center got its start teaching police, coroners, judges and lawyers—not to mention law and medical students—how to interpret medical evidence from crime scenes. The focus was a reflection of the center's founders: Alan Moritz, a forensic pathologist from Harvard University; Samuel Gerber, Cleveland coroner; and Oliver Schroeder, a Western Reserve law professor.
Today the program, with 10 full-time and six adjunct faculty members, covers the regulation of health-care enterprises, health-information technology, genetics and more. Students often obtain dual degrees in law and other disciplines, such as bioethics, public health, biochemistry and social work, and faculty members routinely collaborate with others across the university. They also advise federal agencies and other organizations.
Center Co-director Sharona Hoffman, JD, the Edgar A. Hahn Professor of Law and a bioethics professor in the School of Medicine, spent the spring semester at the Centers for Disease Control and Prevention, providing counsel on the legal and ethical implications of using "big data" for research and public health.
And the National Institutes of Health funds pioneering research led by Max Mehlman, JD, who has been the center's director for nearly 30 years and also is a Distinguished University Professor and the Arthur E. Petersilge Professor of Law. One study, for example, examined the potential ethical, legal and social implications of genetically modifying humans to create military "super soldiers."
"In the midst of enormous change in health care and the legal system," Mehlman says, "the center couldn't be more relevant." —Bill Lubinger
Learn more:
About Max Mehlman, Distinguished University Professor
About Sharona Hoffman, the Edgar A. Hahn Professor of Law