launch
Going Places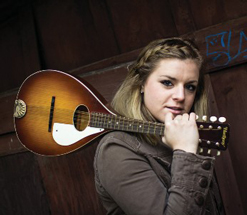 photo: Courtesy Jordan Genovese
Jordan Genovese gazes out from the cover of her debut album, Green November, guitar slung over her shoulder, like a traveling musician with places to go.
And that's exactly the point. The Case Western Reserve junior intends to move to Nashville, Tenn., after she graduates in 2015 to pursue a career as a country music singer-songwriter.
But she isn't waiting to start making her mark. Genovese released her album last fall and played four gigs in Nashville during spring break. "It was everything I had hoped for and more," she says.
Genovese was bred on an eclectic mix of music, from classical to 1980s hard rock. She discovered her own voice and passion in a high school songwriting class in Streetsboro, Ohio. Soon, Genovese was spending hours after school, learning to play the guitar and writing often-personal songs.
"There was a lot going on with my family and me at this time in my life," she says. "Music came in like a rescue to help me sort out everything I was thinking at the time."
She worked with Grammy-nominated engineer Eric Emery, whose studio is in Novelty, Ohio, to produce Green November. Genovese has since appeared on Cleveland television programs, performed at popular campus hangouts, and is planning a Midwest summer tour. She recently changed her stage name to Jordan Audrey to honor her paternal grandmother.
While the medical anthropology major has decided to focus on music for now, if it doesn't work out, she plans to pursue a childhood dream of becoming an OB/GYN or pediatrician.
"I care about both [dreams] and am not ready to give up either at this point," she says. —James Corrigan