discover
A Provocative Game Changer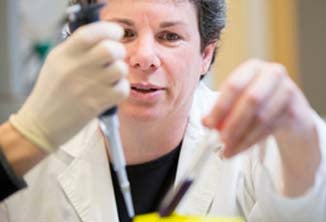 photo: Annie O'Neill
Susann Brady-Kalnay, PhD, was exposed to the devastating effects of cancer at an early age—an experience that fueled her desire to speed detection and improve treatment of the disease.
"We have always known the best way to treat cancer is to find it earlier," says Brady-Kalnay, a professor of microbiology and molecular biology and a researcher at the Case Comprehensive Cancer Center.
Brady-Kalnay is now part of a select cadre of researchers nationwide chosen to solve some of cancer's most vexing research challenges. She leads a team that won a $1.9 million federal award last fall from the Provocative Questions Project, a National Cancer Institute initiative designed to encourage innovation in scientific exploration.
Her team's question—No. 5 on the project's 2012 list of 24 —is this: "Can tumors be detected when they are two to three orders of magnitude smaller than those currently detected with in vivo imaging modalities?" Or more simply: Can cancerous tumors be detected at their earliest formation?
In answering the question, her goal is to improve imaging tests that can't detect the earliest tumors or distinguish cancerous growths from benign growths.
Brady-Kalnay has developed an imaging probe that has the potential to identify tumors at their earliest stages, before they begin to grow uncontrollably and threaten other parts of the body.
Inserted in patients via injection, the probe travels through the bloodstream and "lights up" tumor cells so they are visible on MRI-scanned images. This technology still is two or three years from clinical trials.
Key to the work, she says, is the Case Western Reserve multidisciplinary team of a chemist, physicists, a biomedical engineer and a cancer biologist—all working on one campus and sharing a collaborative spirit not commonly found at other institutions.
"We are doing something that can't be done anywhere else, and that's why we got the grant," she says. The NCI "saw that the tools and the team that we had could make this a reality." —Harlan Spector
To learn more:
About Professor Susann Brady-Kalnay
Research project information