launch
Curbing School Violence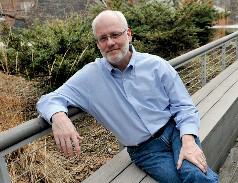 photo: Roadell Hickman
As a national expert on violence prevention, Daniel Flannery, PhD, is called almost every time a mass school shooting occurs. The media want him to comment on incomprehensible acts, while school districts seek his expert counsel to develop and fund more programs for students.
What does the director of the Begun Center for Violence Prevention Research and Education at the Jack, Joseph and Morton Mandel School of Applied Social Sciences tell them? His answers vary, but Flannery always stresses that shootings are rare and difficult to predict. He also believes that, to make a difference over time, schools need long-term programs that provide evolving messages or forms of support targeted to different types of kids at different ages.
"One thing we know, but is hard to sell, is that the earlier you start [these programs], the better off you are because violence is a learned behavior," says Flannery, who also is the Dr. Semi J. and Ruth W. Begun Professor at the Mandel School.
He says school programs should begin as early as kindergarten, with students learning how to manage anger, behave in group settings, and avoid shoving, kicking and name-calling.
Messages should change as children get older and should address everything from conflict resolution to electronic aggression.
A second layer of programming is needed for students who demonstrate problem behavior, and a third layer for at-risk students who have significant mental health or behavioral issues, he says.
"We need this layered, sustainable approach to make a difference over time," says Flannery, who last year participated in a White House panel on preventing school violence.
The center also works with juvenile justice and child-welfare systems and other agencies —collaboration that Flannery says is essential.
Flannery headed the Institute for the Study and Prevention of Violence at Kent State University before moving his team to Case Western Reserve in 2011.
He was drawn to CWRU's commitment to using its expertise to provide actionable solutions in the community.
"It is a bit unusual for a university to commit to studying this problem the way the Begun Center goes about it," Flannery says. "We work actively with community-based partners in the field quite a bit. It isn't just academic." —Harlan Spector
Learn more:
About Daniel Flannery, the Dr. Semi J. and Ruth W. Begun Professor