Shelf Life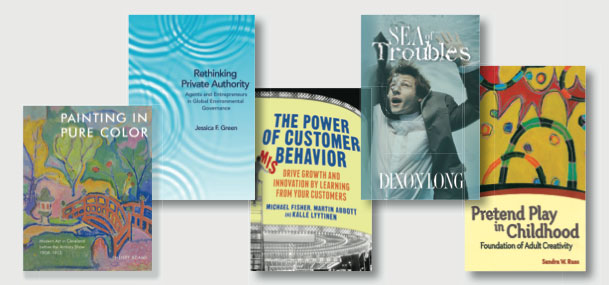 Painting in Pure Color:
Modern Art in Cleveland before the Armory Show,
1908-1913 by Henry Adams, PhD, professor of American art
(Lawrence Waldman, paperback, $25)
In his most recent book on Cleveland's art history, Adams explores the artists of the post-impressionistic art movement in the city in the early 20th century. He discusses the work of highly talented artists in Cleveland at the time, such as Abel Warshawsky and Frank Wilcox, and why the art form surfaced in Cleveland as opposed to other industrial cities.
Rethinking Private Authority: Agents and Entrepreneurs in Global Environmental Governance
by Jessica F. Green, PhD, associate professor of political science
(Princeton University Press, paperback, $24.95)
Green examines how private firms—often criticized for ignoring environmental problems—actually are emerging as leaders in creating and enforcing climate regulations. Often, these private-firm regulations exceed those of international treaties and governments. Green's book also provides historical context for understanding today's approaches to environmental problems.
The Power of Customer Misbehavior
by Michael Fisher, PhD, (MGT '00, GRS '13), Martin Abbott (MGT '12) and Kalle Lyytinen, PhD, associate dean for research at the Weatherhead School of Management (Palgrave Macmillan, hardcover, $32). The authors analyze the importance of customer-driven innovation—specifically, what happens when customers modify or expand the use of products and services in ways the creators never intended. The book explains how companies can identify customer "misuse," and then develop even better offerings.
Sea of Troubles
by Dixon Long, PhD, dean emeritus of Western Reserve College
(CreateSpace Independent Publishing Platform, paperback, $10.99)
Long tells the story of Harald Hanson, the president of an Ohio college. Hanson contends not only with his lack of experience, but also faculty who challenge his every move, a failing marriage and an ailing father—even as he conducts an inappropriate relationship with his secretary.
Pretend Play in Childhood:
Foundation of Adult Creativity
by Sandra Russ, PhD, professor of psychology
(American Psychological Association, hardcover, $69.95)
Russ examines how unstructured play in childhood lays the groundwork for adult creativity that can lead to scientific discoveries, engineering designs, best-selling novels and more. Citing the success of surrealist artist Frida Kahlo and Super Mario Bros. creator Miyamoto, Russ links how kids experiment, shape memories and express emotions through make-believe with similar processes adults use to make new discoveries or art.