discover
Applying the Brakes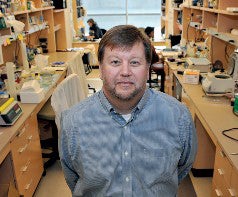 photo: Roadell Hickman
Bill Schiemann and colleagues knew after a decade of discoveries that two proteins played a critical role in the spread of the often deadly triple-negative breast cancer.
But what was the precise role? And why did one of the proteins, TGF-Beta, sometimes switch from putting the brakes on tumor growth to accelerating it? The work done to uncover the answers to these questions exemplifies the collaboration intrinsic to the mission of the Case Comprehensive Cancer Center. Schiemann is co-director of one of the center's top initiatives—the Breast Cancer Program—and an associate professor of general medical sciences-oncology. His co-leader on the project is Khalid Sossey-Alaoui, PhD, assistant professor of molecular medicine at Cleveland Clinic Lerner College of Medicine at Case Western Reserve and a staff member at Cleveland Clinic Lerner Research Institute.
What the scientists found was a critical relationship between TGF-Beta and WAVE3, the other protein that drew their attention. When TGF-Beta flips a switch and turns on WAVE 3, the WAVE3 protein speeds up the spread of the cancer. But when TGF-Beta is prevented from flipping the WAVE3 switch, TGF-Beta again becomes a brake on the disease.
The discovery of the interplay opens new possibilities for the treatment of triple-negative breast cancer, a disease whose tumors are notoriously difficult to treat, frequently return after remission and rapidly spread to other parts of the body. "It has the potential to inhibit the growth and metastasis of triple-negative tumors," says Schiemann.
The next step in the research process is to find a way to deliver tumor-inhibiting treatments directly to the site and reverse the disease. Eventually, the team aims to move into clinical trials. —Susan Valerian
Learn more: