voice
Falling Into His Passion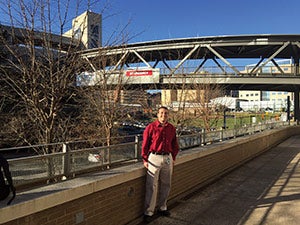 Courtesy of Joseph Grover
During my first year at Case Western Reserve, I learned a valuable lesson: If a friend asks you to play snow soccer, the appropriate answer is "no." That realization came when I slipped and fell hard, dislocating my left kneecap. Unable to walk on my own and unaware of the seriousness of my injury, I asked friends to help me hop back to my room. My knee swelled to twice its size. I needed an evaluation, but none of my friends had cars. So I called 911—and then waited more than 20 minutes for Cleveland's emergency medical service (EMS).

As the minutes ticked by, I had my second revelation of the day: Something needed to be done on campus to shorten the time for help to arrive.

I already knew about appropriate response times. Before coming to campus, I worked as an entry-level emergency medical technician (EMT-basic) in Kensington, Md. I fell into that world by happenstance: My high school required community service to graduate. I had no idea what I wanted to do in life— let alone for my school requirement. But my father saw a newspaper advertisement for a youth group that trained its members to staff first-aid stations at events.

Emergency aid quickly became my passion. At 16, I joined the local fire department as an EMT-basic. I moved up the ranks, eventually directing patients' medical care during ambulance transport. I loved helping others when they were most in need and making a difference, even at such a young age.

By the time I applied to colleges, I was planning for a career in emergency medicine and medical services. A Case Western Reserve program providing both undergraduate admission and conditional admission to the School of Medicine was the perfect fit.

Then came that eventful decision to play snow soccer—and my mission to bring faster emergency services to campus. I soon discovered that several other schools had their own student-run EMS programs. Their student participants were gaining leadership experience and expanding their university involvement through a campus-based EMS system—both of which I deeply wanted. I had no idea how to start such an organization or how long the process would take. But I teamed up with Ari Rabkin (CWR '06), a close friend who had been an EMT-basic in Rockville, Md., and also was passionate about making Case Western Reserve University EMS a reality.

Getting there wasn't easy. While everyone we met with, from physicians to administrators, seemed to support the idea, they feared the potential legal liabilities associated with students providing medical care. After countless meetings, we demonstrated that CWRU EMS would fall under Good Samaritan laws, providing legal protection for our volunteer staff. With liability addressed, the administration supported the idea and provided a Presidential Initiative Grant for major startup expenses.

In 2005, after two years of work, CWRU EMS was born. Ari and I couldn't have done it without support from faculty and CWRU police advisers.

Being at the university for eight years as an undergraduate and a medical student meant I could stay involved. I organized a mass casualty incident drill on campus—now an annual event—to teach students about running an EMS system, and working with different EMS and public safety systems.

And I watched with pride as CWRU EMS expanded. Early on, we only had enough members for weekend staffing and responded on foot to all emergencies, which greatly limited our response area. I will never forget buying a sled to carry medical equipment to calls in the snow. But over the years, so many students joined that we expanded to daily service and even secured a van from university police to expand coverage to the south side of campus. Now 10 years old, the organization is flourishing and has an ambulance to provide transport to a hospital.

I have since completed an emergency medicine residency at the University of Virginia and worked as a board-certified emergency medicine physician in a Raleigh, N.C., hospital.

I'm now the volunteer startup coordinator for the National Collegiate EMS Foundation, working to launch campus EMS programs nationally. And I'm completing an EMS fellowship at the University of North Carolina (UNC) at Chapel Hill—the final step to becoming an EMS medical director. In July, I will become a clinical assistant professor in UNC's Department of Emergency Medicine, and will train future EMS physicians.

Without the unending support of Case Western Reserve's faculty, administrators and police—and the lessons learned from co-founding CWRU EMS—I doubt I would be in such a gratifying position: on the cusp of realizing my professional dream. Reflecting on the process we went through to start CWRU EMS, I realize the most important lesson I can impart to current students is this: Never give up when you are passionate about something.

Joseph Grover, MD, is completing an EMS fellowship at the University of North Carolina (UNC) at Chapel Hill and is the volunteer startup coordinator for the National Collegiate EMS Foundation. He met his wife, Natalie (Rubinstein) Grover, MD, at the School of Medicine. Also a 2011 graduate, she is a hematology/oncology fellow at UNC.