discover
Living Longer with HIV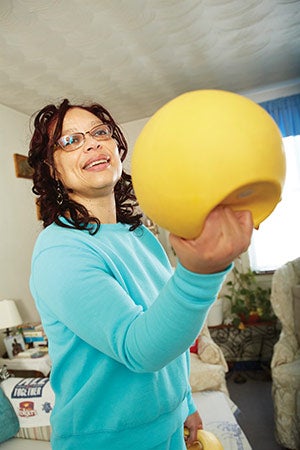 PHOTO: KEVIN KOPANSKI
When Kimberlin Dennis tested positive for HIV, the virus that can lead to AIDS, she was certain she'd be dead in five years—or less. Her husband, after all, had died just seven months after he was diagnosed with HIV.

That was 22 years ago. Today, Dennis, 55, is a well-toned 135 pounds (compared to 90 pounds when the virus kept her hospitalized for months at a time). She lifts weights three times a week in her suburban Cleveland home and routinely has healthy breakfasts of fresh fruit and different types of protein—her super-pack start to the day.

Dennis fits the profile of the HIV patient whose long-term health is the focus of two nurse researchers at Case Western Reserve University's Frances Payne Bolton School of Nursing. Their aim: to better understand the dynamics of long-term living with HIV, so patients can lead fuller, healthier lives and better manage the associated health risks.

"Thirty-five years ago, when people were diagnosed with HIV, they were often diagnosed with AIDS as well, and it really was a death sentence, with less than a year to live," said Assistant Professor of Nursing Allison Webel, RN, PhD, whose research explores chronic disease self-management. She also is a co-author of the newly revised Living a Healthy Life with HIV (4th edition), which she describes as "a self-help book for people living with HIV."

Breakthroughs in medication have made HIV a chronic condition that can be managed, not a fatal diagnosis. "Many who were close to dying got the meds and [their immune systems] recovered," Webel said. Today, the life expectancies for people with HIV are just about equal to those for people not living with HIV.

But people with HIV tend to be at risk for other chronic diseases, especially cardiovascular, liver, kidney and bone disease, as well as certain cancers.

During the last two years, Webel has run a group-based research study of people living with HIV, aimed at helping them make health-improving behavioral changes. Dennis, one of the study's first 87 participants, already was healthier when she joined the study. Even so, she called the experience "transformative" because she learned more about diet and nutrition, set exercise goals and, more than anything, gained a sense of hope—or, as she put it, "Yes, I can."

Separately, Jacquelyn Slomka, RN, PhD, another nurse researcher and assistant professor at the school of nursing, published a study in the Journal of the Association of Nurses in AIDS Care in 2013, identifying health-improving traits that help account for longevity among certain HIV survivors.

"The long-term survivors tended to have good communication with their doctors and professional staff, most tended to have a moment when they decided to take charge and not be devastated by the diagnosis," said Slomka, "and they found a reason for living."

And now, as the population with HIV continues moving into its 60s and 70s, Slomka, Webel and other researchers at the school are completing a four-year multidisciplinary study to help people living with HIV and other chronic illnesses comprehensively manage their physical symptoms and address spiritual and psychosocial issues. It is funded by the National Institute of Nursing Research, which is part of the National Institutes of Health.

1 in 4 people in the United States living with HIV are now 55 or older, according to the U.S. Centers for Disease Control and Prevention.