LENS Sports
Of Miles and Mettle
Spartans Baseball Coach Finds Strength in Running as He Battles Cancer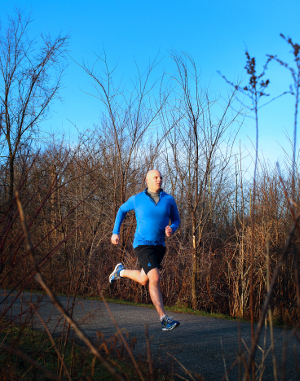 PHOTO: Michael F. McElroy
Ten months after Matt Englander underwent brain-cancer surgery, he ran his first marathon. Nearly six years later, Case Western Reserve University's head baseball coach continues to press toward his goal of running a marathon in every state.
"He's the toughest person I've ever met," said Jake Shields, a starting pitcher and senior captain. "He expects us to work hard to be our best with no excuses. My team - mates and I can't have a better role model as athletes or people."
After being diagnosed in 2011, Englander wanted to make his lifestyle healthier. His wife, Heather, suggested running a half-marathon. He opted for a full 26.2-mile marathon—and the extensive daily training required.
"Running has been good for me as an escape and a way to keep me mentally sharp and focused," he said.
Last year, he set a goal of running 1,000 miles; he tallied 1,001, including three marathons in three states—all while completing 12 rounds of debilitating chemotherapy needed when his tumor started to grow again. The tumor has shrunk and remains stable.
His personal goals for 2017 include spending more time with Heather and their two children, Quinton, 4, and Miles, 1; running two marathons; and improving his best race time. His coaching aims: lead his team to a University Athletic Association Championship and the NCAA Division III College World Series.
A former two-time All-American pitcher at the College of Wooster, Englander is in his 11th season with the Spartans and has coached the team to a 251-201-02 record as of mid-April. He is now the university's all-time winningest baseball coach.
He doesn't talk much about his health with his ballplayers. Nevertheless, they benefit from his lessons learned, such as finding ways to fight through fatigue, whether on a baseball diamond, marathon course or in a hospital.
"I try to help our student-athletes understand that difficulty is not to be avoided, but embraced," Englander said. "That nobody is proud of easy accomplishments, and that we should seek worthy challenges in our lives—not avoid them because they are hard, but engage them specifically because they are."
SPORTS BRIEFS


PHOTO: Lynne Shibko

Junior Kara Hageman led the women's basketball team, setting CWRU's single-game and single-season scoring records. She also was named to the All-UAA First Team.

PHOTO: Alex Slitz

Junior Cassandra Laios became the first woman at the university to sweep the throwing events at the UAA Indoor Championships, winning conference championships in both the weight throw and shot put in 2017.

PHOTO: D3PHOTOGRAPHY

Junior Sam Merriman finished 21st at the NCAA Championships, becoming the eighth runner in CWRU men's cross-country history to earn All-America honors. Merriman also was the NCAA's Elite 90 award recipient for the highest GPA at the event.