Science Café Cleveland
presents
---
"Living on a Dusty Moon"
JULY 8, 2014
FEATURING:
Dr. Kenneth W. Street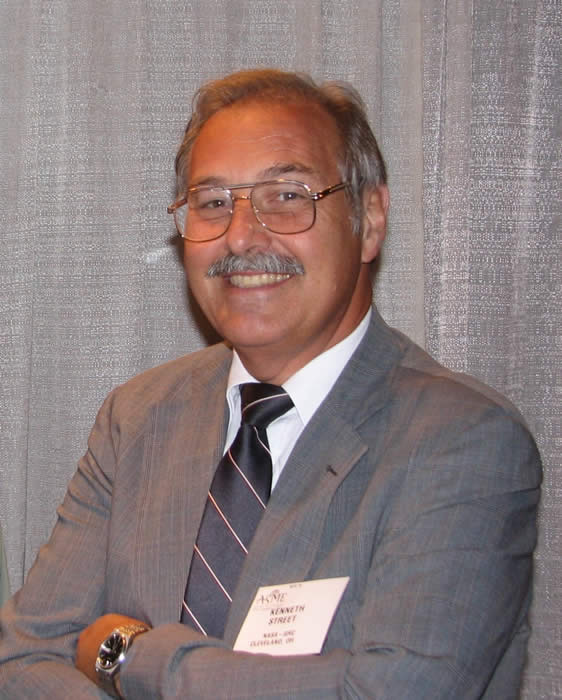 Distinguished Research Associate (Emeritus)
National Aeronautics and Space Administration
John H. Glenn Research Center
---
EVENT INFORMATION:
The Moon could serve as the launch pad for human exploration of Mars and the rest of our solar system because of reduced gravity and abundant resources.  In 2004, President George W. Bush set forth a Vision for Space Exploration in which we return to the moon for a sustainable presence.
As background information, the first Apollo missions, including a lunar roving vehicle (LRV) to transport the astronauts (Apollo 15 in 1971 and Apollo 17 in 1972), had specifications for operation in an environment of +120̊ C for as much as 2 years.  In order to expedite the LRV delivery schedule, these requirements were eventually reduced to operation in 0-100̊ C for only a few hours.  The equipment performed on the lunar surface at least this long, but as the missions progressed, significant problems arose with the functioning of various parts of all equipment, including the LRV and its components, space suits, door seals to the living quarters, etc. The majority of equipment damage in the Apollo missions was caused by dust. In order to return to the moon, the interaction of equipment and humans with lunar dust must be better understood and all equipment must be tested in a relevant environment which makes not only an understanding of lunar dust properties important but it will be necessary to duplicate these properties in terrestrial simulants for testing purposes.
"I think dust is probably one of our greatest inhibitors to a nominal operation on the Moon.  I think we can overcome other physiological or physical or mechanical problems except dust."  - Gene Cernan, Apollo 17 (technical crew debriefing)
The goal for lunar equipment in our eventual return to the moon includes an extended lifetime (say for five years) to accommodate multiple visits of a month or more duration.  This equipment must operate and survive in lunar regolith having particle sizes ranging from 30 nm to cm.
---
BIOGRAPHY:
Dr. Kenneth W. Street, a recently retired Materials Research Engineer, joined the staff of the National Aeronautics and Space Administration's John H. Glenn Research Center (NASA – GRC) in February 1991. He currently holds the position of Distinguished Research Associate (Emeritus status) at NASA-GRC.
He began his career with GRC in the Environmental Programs office where he ran a chemistry laboratory analyzing a variety of samples such as water, paint, fuels, etc. mainly looking for hazardous components. During that time, he did research on materials to remove toxic metals from water and was awarded a patent for invention of a novel ion exchange material. Presently, he is involved in research on friction and lubrication using optical spectroscopy to analyze space lubricants, diamond like coatings and wear materials. He has participated in many programs throughout the center and has analyzed a wide variety of materials including Teflon from the Hubble space telescope and Egyptian antiquities from the Cleveland Museum of Art.
A native of Waterford, Connecticut, Dr. Street earned his Bachelor's degree in chemistry from the University of Connecticut in 1970; and a Master's degree in chemistry from Cleveland State University in 1973. He received his Doctorate in 1977 from Wayne State University specializing in analytical chemistry.
Dr. Street is the author of approximately 100 papers and several book chapters in the area of chemical analysis, pharmaceutical analysis, tribology and instrumentation evaluation. He is a member of several professional societies: American Chemical Society, Society for Applied Spectroscopy, and Sigma Xi - The Scientific Research Society. In 1996 and 1997, he was nominated for NASA Inventor of the Year Award, and in 2011 he was elected Fellow of the American Chemical Society.

---
ARTICLES/LINKS OF INFORMATION:
---
EVENT DETAILS:
WHERE: The Market Garden Brewery
(Located at 1947 West 25th Street next to the West Side Market, Cleveland, Ohio)
WHEN: July 8, 2013
Discussion starts around 7:00 p.m.
*Please Note* A few of our cafes have approached capacity and/or standing room only. If you want to be 100% sure to get in and get a good seat, you might want to arrive a bit early.
WHO: Sponsored by Case Western Reserve University chapter of Sigma Xi, WCPN
ideastream, and the Market Garden Brewery
Click here to download a pdf flyer of the event
---