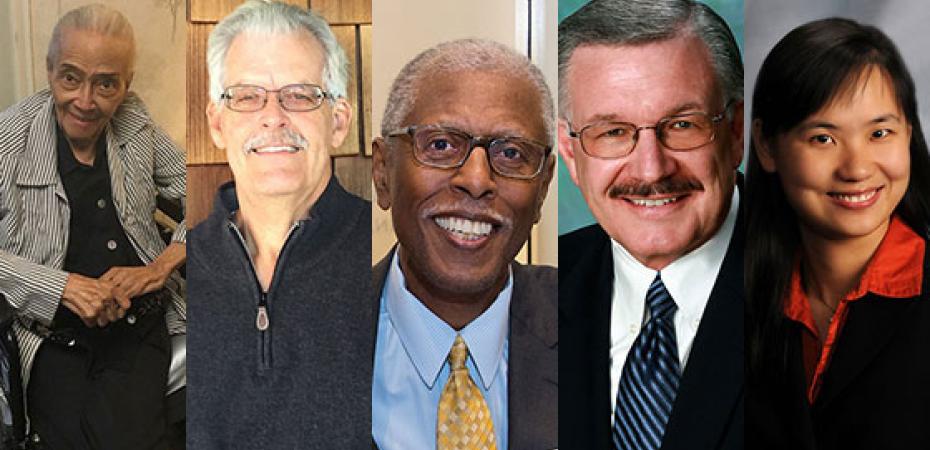 2017 Alumni Award Recipients: Jean Murell Capers, John P. Claypool, David A.G. Johnson Jr, James B. Treleaven, Jiajia Veronica Xu
The Alumni Association of Case Western Reserve University is proud to recognize outstanding, notable and accomplished alumni and friends of Case Western Reserve University. The recipients of Alumni Awards, except where noted, must be a graduate of Case Western Reserve University or one of its predecessor institutions. Members of the Recognition Committee of The Alumni Association determine the recipients from nominations that are received each year by the May 30 deadline. All nominations received are considered active for three years.
2017 Alumni Award Recipients
Distinguished Alumni Award
Jean Murrell Capers (EDU '32), who died in July at age 104, fostered an unprecedented commitment to education, politics and law. She was the first African-American woman elected to Cleveland's City Council in 1949, served as special counsel to the Ohio Attorney General and was an original member of the Women's Advisory Council of Employment Services. At age 62, Capers was appointed and then elected Cleveland Municipal Judge. Her service to the community, including work with the Central Welfare Association and the National Council of Negro Women, exemplified her focus on social justice and a commitment to the Cleveland area. Capers has been inducted into the Ohio Women's Hall of Fame and the Ohio Civil Rights Hall of Fame and honored by the National Bar Association, as well as the Ohio and Cleveland bar associations, the National Council of Negro Women, the City Club of Cleveland, YMCA and Delta Sigma Theta Sorority.
Professional Achievement Award
John P. Claypool (ADL '70) built a successful career in architecture and city planning. While working in the administrations of two Philadelphia mayors, he led efforts to reform management and balance budgets. As executive director of the American Institute of Architects Philadelphia chapter, Claypool created the independent Center for Architecture, which is responsible for the annual DesignPhiladelphia Festival, highlighting the work of local designers, architects and creative professionals. He also led efforts to raise funds for the Philadelphia public schools and the Charter High School for Architecture + Design, where students can begin to pursue a career in architecture.
Newton D. Baker Award
David A. G. Johnson Jr. (WRC '73) serves on The Alumni Association of Case Western Reserve's board of directors. Johnson also served on several CWRU visiting committees, including as co-chair of the Visiting Committee of University Libraries.  He served CWRU's New York Alumni Association (NYAA) as president, secretary and archivist, and was awarded the Adrian Freeman Award by the NYAA in 1999. He also is involved in Columbia University's alumni groups. Beyond alumni leadership and service, Johnson has served as a mentor for student teachers/graduate students at Queens College, The City University of New York and St. John's University, as president and trustee of the Schomburg Corp., board chairman for the Cinque Gallery and on advisory committees for Carnegie Hall's Weill Music Institute and the Romare Bearden Foundation.
Daniel T. Clancy Award
James B. Treleaven (CIT '69, GRS '90, management), president and CEO of Via Strategy Group, has been involved with Case Western Reserve since his leadership as a student. For the past 47 years, the Chicago resident has been involved with The Alumni Association of Case Western Reserve, including serving as president, the Case Alumni Association, Spartan Club and several visiting and planning committees across the university.
Young Alumni Award
Jiajia Veronica Xu (LAW '08) works in international and corporate law, helping clients bridge cultural differences. She is an instructor with the Law and Leadership Institute, sponsored by the Ohio Supreme Court, organizes free legal seminars for minorities in Northeast Ohio, mentors CWRU law students and alumni, teaches Chinese to children and adults and serves as diversity committee vice-chair of the American Bar Association and board member of the Cleveland Student Housing Association.
---