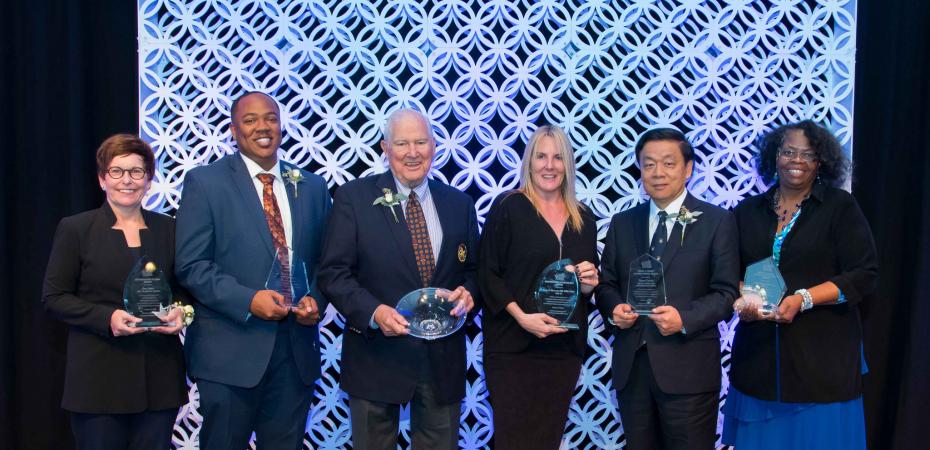 2018 Alumni Award Recipients: Gina Gibney, Donte L. Gibbs, Richard T. Reminger, Kathy E. Magliato, Takeshi Tottori and Janice Eatman-Williams
The Alumni Association of Case Western Reserve University is proud to recognize outstanding, notable and accomplished alumni and friends of Case Western Reserve University. The recipients of Alumni Awards, except where noted, must be a graduate of Case Western Reserve University or one of its predecessor institutions. Members of the Recognition Committee of The Alumni Association determine the recipients from nominations that are received each year by the May 30 deadline. All nominations received are considered active for three years.
Recipients of The Alumni Association's 2018 Awards
Donte L. Gibbs (CWR '10, SAS '12) is this year's recipient of the Young Alumni Award, recognizing outstanding alumni under the age of 35 who have demonstrated excellence in their professional field and/or service to their community, the public or humanity. Gibbs, the 2017­-2019 Gund Fellow at the George Gund Foundation, created Donte's Gift Express, delivering gifts and handwritten cards to East Cleveland homes on Christmas Eve for over three years. Gibbs was named CWRU's Top Thirty Under 30, named a community leader in Who's Who in Black Cleveland, and honored as Radio One Cleveland's Future History Maker. He has served on the board of CWRU's African American Alumni Association, is secretary for Fairfax Renaissance Development Corporation's Board of Directors, and is the volunteer coordinator for Manna Food From Heaven, serving meals at local shelters. He also serves on the East Cleveland Civil Service Commission, which reviews police and fire exams and interviews candidates to be employed within the fire and police department.
Takeshi Tottori (GRS '82, metallurgy and materials science) will receive the Daniel T. Clancy Alumni Service Award, recognizing outstanding alumni who have been active in alumni affairs for at least 15 years and have made significant contributions to The Alumni Association of CWRU and its programs. Since 1998, Tottori has ensured that CWRU has an alumni presence in Japan, by hosting an annual meeting in Tokyo and founding the Japan Alumni Chapter. As a member of the board of directors of The Alumni Association of CWRU, he has traveled to Cleveland to attend annual meetings, chaired the alumni groups committee and the international alumni ad hoc committee, and served as vice-chair of the chapters, affinity groups, student and young alumni outreach committee.
Janice Eatman-Williams (MNO '01) will receive the Newton D. Baker Distinguished Service Award, honoring the legacy of Cleveland's Newton D. Baker, who urged everyone to volunteer their time, talent and service to those in need. For more than 25 years, Eatman-Williams has built connections between CWRU and the Cleveland community by providing youth and families access to academic assistance, life­ skills training and college preparation. Additionally, she has completed certification in Cleveland State University's Neighborhood Leadership Institute and participated in CWRU's Think Forum: Social Justice, Activism, and Advocacy, SAC's Community Service Committee, and Cleveland State University's Girls Health Summit. Her civic engagement earned her CWRU's President's Award for Distinguished Service, the Community Partner Service Award from the Cleveland Job Corps, and the East Cleveland Public Library's Volunteer Recognition Award. She also delivered water, food and supplies to the citizens of Flint, Michigan, worked on post-­hurricane restoration projects, and is active with the African American Alumni Association and the Alpha Kappa Alpha Sorority.
Kathy E. Magliato, MD, MBA, FACS (MED '90) will receive the Professional Achievement Award, recognizing alumni who have achieved exceptional accomplishment in their careers. Magliato is one of the few female cardiothoracic surgeons in the world. She founded and directed a Multidisciplinary Women's Health Center to address the cardiac needs of female patients at Providence Saint John's Medical Center in Santa Monica, CA, where she is currently on staff. Prior to joining Saint John's Medical Center, Dr. Magliato was a heart/lung transplant surgeon and director of the Mechanical Assist Device Program at Cedars-Sinai Medical Center in Los Angeles.
Gina Gibney (WRC '79; GRS '82, theater) will receive the Distinguished Alumni Award, recognizing alumni who have made outstanding contributions to their profession or field of interest and, over the course of a lifetime, brought benefit to their community and humanity and honor to the university. Gibney is a choreographer, cultural entrepreneur, and the artistic director and chief executive officer of GIBNEY, a New York City organization that uses the transformative power of the arts to catalyze personal and social change.
Richard T. Reminger (ADL '53), recipient of the President's Award for Excellence and a respected lawyer and artist, is the founder and retired chief executive officer of Reminger Co., L.P.A. Founded in 1958, the law firm is headquartered in Cleveland and has 14 offices throughout Ohio, Kentucky and Indiana. Reminger Co., L.P.A. initially focused on the defense of civil matters involving the motor carrier industry, and now includes the defense of civil matters in multiple fields, including professional and medical malpractice. By the 1980s, Reminger Co., L.P.A. became the preeminent transportation and medical malpractice firm in Ohio and was ranked by U.S. News & World Report as one of the top 10 transportation law firms in the nation. When, in the 1970s, traditional insurance companies were reluctant to continue insuring physicians and hospitals, Reminger founded the Cardinal Casualty Company, which still exists today. He was honored with the Cleveland-Marshall College of Law's Alumnus of the Year Award in 1989.
Additionally, Reminger is an award-winning artist, focusing on landscape and seascape art, along with commissioned portraits. His oil paintings have been invited and juried into over 135 exhibitions in Florida, Illinois, Ohio, Massachusetts, California, Maine, Michigan, Oregon, Connecticut and New York City, as well as Bermuda. In Europe, his work has shown in galleries in Dublin, Ireland, and Truchtlaching (Bavaria), Germany. In 1999, he became the first North American painter to appear in the gallery at Siemens global headquarters in Munich, Germany, an environmentally friendly and inspiring work environment that is also accessible to the public. He is an elected member of the Oil Painters of America and the Salmagundi Club of New York City and a signature member of the International Society of Marine Painters. 
---