Arts and Sciences Home »
Alumni News: Something of a Radical
In Theater and Politics, Alan Rosenberg Affirms the Lessons of His Undergraduate Years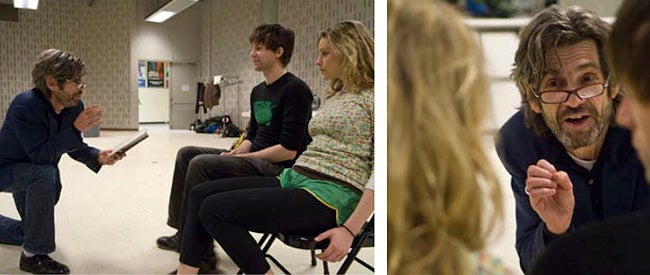 Alan Rosenberg directs two MFA acting students, Tom Picasso and Sarah Nedwek, in a scene from Neil LaBute's Autobahn.
Photo: Peter Jennings
By Charles Michener
Case Western Reserve University has scarcely been renowned as a hotbed of activism. But during the late 1960s, students opposed to the Vietnam War were a visible and vocal presence on campus. Their culminating protest, on May 4, 1970, was sparked by the National Guard killings of four students at Kent State University during a demonstration against the U.S. invasion of Cambodia. When news of the deaths reached Cleveland, about 50 protesters spontaneously decided to block traffic at the corner of Adelbert Road and Euclid Avenue. Soon they were joined by about 100 others, including students, faculty and staff.
At that time, Alan Rosenberg was an undergraduate with a double major in theater and political science. He was also a civil rights and antiwar activist. He remembers the Cleveland mounted police swinging their nightsticks and routing the Euclid Avenue protesters. Though this would be the last such demonstration at the university, its impact on Rosenberg and his friends was profound.
"My years at Case Western Reserve really got me involved in the civil rights and antiwar movements," he recalled recently. "I guess you could say that ever since I've been something of a radical—well, at least someone who cares deeply about right and wrong."
In March, Rosenberg returned to his alma mater, not to engage in politics, but to direct students in the Master of Fine Arts acting program in a production of Autobahn, a cycle of short plays by Neil LaBute, at The Cleveland Play House. For Rosenberg, the experience was a welcome respite from a bruising, long-running contract battle he has been waging with Hollywood studio heads in his role as president of the Screen Actors Guild (SAG). The day before the opening of Autobahn, we agreed to meet for lunch at L'Albatros, the new brasserie on Bellflower Road, and when I walked in I had no doubt about the identity of the intense, Pacino-like figure in jeans and black leather jacket who was perched at the bar.
Rosenberg's deeply lined, hawk-like face would make him ideal casting for a tormented biblical martyr, but his manner was unexpectedly boyish. Immediately engaging, he lets you know that he is someone who wants to be liked. It was clear that he was thoroughly delighted to be back in Cleveland, even on a chilly, gray March day.
"I had a wonderful time here as an undergraduate," he said. "I had two great teachers—Kathryn Karipides, the head of the dance department, who gave me discipline and a visceral love of art, and Martin Plax in the political science department, who taught me how to think about society. They were the two best teachers I ever had."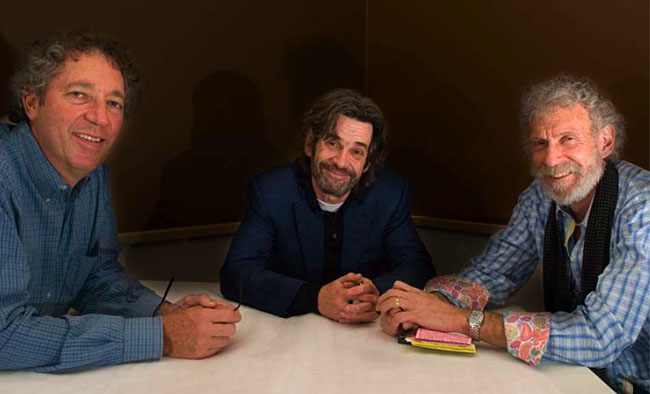 From left: David Firestein, Alan Rosenberg and Jim Richman have been close friends since their college days. This spring, while Rosenberg was directing a production for the MFA acting program, Firestein and Richman flew in from New York for a reunion.
Photo: Peter Jennings
Those two sides of Rosenberg were imprinted by his upbringing. He was born near New York City, in Passaic, New Jersey, in 1950. "There was always a strong creative streak in my family," he said. "My father was a businessman—he managed a local department store called Wechsler's and started a business in bicycle parts—and also a swing musician and amateur actor in community theater. He played the King in The King and I and Sky Masterson in Guys and Dolls. My first cousin is Donald Fagin of Steely Dan."
Rosenberg and his older brother Mark shared an early passion for social justice. Mark, who became a leader of Students for a Democratic Society in the '60s and produced such films as The Killing Fields, paved the way for the brothers' student radicalism. (Mark died in 1992 at the age of 44.) Alan's parents wanted him to become a lawyer, but he decided on acting as a way, he later told a reporter, "to effect social and political change."
"I lost all the money my parents gave me to apply to law school in a poker game," he recalled, "and the only graduate school I applied to was the Yale Drama School, where I was accepted, to my surprise."
At Yale, Rosenberg's greatest influence and best friend was his classmate Meryl Streep. "I learned from her through osmosis," he said. "I was awestruck by her. She was not just the best actress, she was the best dancer, the best acrobat. She was driven to be wonderful at whatever she did. There was this incredible glow about her. My biggest role at Yale was the lead in Saul Bellow's The Last Analysis, a part written for Zero Mostel. I was so nervous that I got completely dehydrated and Meryl had to take me to the hospital." Rosenberg left Yale before graduating and went to New York to look for acting opportunities. He supported himself as a cab driver, among other odd jobs, and finally landed a costarring part in Thomas Babe's A Prayer for My Daughter. A year later, he starred in an off-Broadway revival of Babe's Kid Champion, in a part written originally for Christopher Walken. In 1989 he married the actress Marg Helgenberger, whom he met while they were appearing in the daytime soap Ryan's Hope. Their son, Hugh, who is now a student at Indiana University, was born in 1990.
The 1990s were good for the couple. Helgenberger became a television star in the series CSI: Crime Scene Investigation, and Rosenberg, thanks to his role as the divorce lawyer Eli Levinson in the courtroom series Civil Wars, was in steady demand for a variety of leading television and film parts. (They ranged from the mobster Frank Nitti in a TV biopic of Al Capone to the Apostle Thomas in Martin Scorcese's The Last Temptation of Christ.) "I was a versatile actor who got very, very lucky," Rosenberg told me. "You have to remember that of the 80,000 people who belong to the Screen Actors Guild, 80 percent are out of work at any given time."
Rosenberg's hard-earned craft in theater, television and film was vividly on display in the seamless flow of LaBute's Autobahn in the intimate Studio One Theatre at the Play House. A montage of seven 10-minute vignettes that had its premiere in 2006, the piece takes place entirely in the front seat of a car, in which a variety of couples interact with scabrous intensity underneath a veneer of normality. The scenes include a make-out session that has misfired, a kidnapping and a daughter's ride home after rehab. The performances by the MFA actors—A. J. Cedeño, Michael Flood, Zac Hoogendyk, Lindsay Iuen, Sarah Nedwek, Tom Picasso, Tom White and Leigh Williams—were a study in prickly, naturalistic detail, finely registered.
Although LaBute insists that his plays resolutely are just what they seem to be, Rosenberg's direction of Autobahn lent them an air of political provocation. Four years ago, following in the footsteps of such better-known predecessors as James Cagney, Ronald Reagan and Charlton Heston, Rosenberg became president of the Screen Actors Guild in Los Angeles. Before long he found himself embroiled in what he said is the "longest and most bitter labor dispute in the history of entertainment."
From the moment he took office in 2005, Rosenberg vowed to wage war with the studios for better contracts for SAG's far-flung members, mostly involving Internet residuals. "We live by the money we make when the studios re-use our images," he told me. As the old contract neared its expiration date in July 2008, he traveled to nearly all the union's 24 membership branches across the country to mobilize support for his hard-line position. When the studio heads balked, things quickly unraveled. As of this writing, the two sides are still without a contract, and the more moderate SAG members have severely criticized Rosenberg's leadership as too unyielding. His personal life buckled, and in March, Helgenberger, his wife of 20 years, filed for divorce.
But when I asked Rosenberg whether he had any regrets in these difficult times, he said no. "When my time is up at SAG, I plan to head for Vegas, play a lot of poker and get started on a memoir," he said. "No matter what the moderates say about me, I know I've done my best to do the right thing for my fellow actors. And I've never lost the belief I developed all those years ago as an undergraduate at Case Western Reserve: Art has the power to change the world."
Charles Michener, visiting professor in the Department of English, teaches the Norman Wain Journalism Seminar. He is the former senior editor for cultural affairs at Newsweek and a former senior editor at The New Yorker. Michener is currently writing a book, The Hidden City, about the reinvention of northeast Ohio.