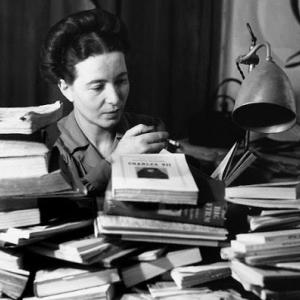 CANCELLED - WILL BE RESCHEDULED FOR SPRING 2022
Clark Hall Room 206
11130 Bellflower Road
THIS EVENT HAS BEEN CANCELLED DUE TO ILLNESS AND WILL BE RESCHEDULED FOR SPRING 2022. 
Simone de Beauvoir is best known for The Second Sex, but also published a four-part memoir that stands as a chronicle of post-war French intellectual culture. In her talk Laura Hengehold, Professor in the Department of Philosophy, examines Beauvoir's changing attitudes toward history as represented in the autobiographies, as well as in The Second Sex and her final major work, The Coming of Age. In the process, she considers ways that autobiography has been a significant factor in feminist cultural activity and evaluates Beauvoir's own self-criticism of The Second Sex for being excessively concerned with women's consciousness rather than with their material circumstances.
A boxed lunch will be provided.  However, due to COVID restrictions, it can not be eaten in the lecture space.
Registration requested.  Register HERE.
This lecture will also be live-streamed at www.case.edu/livestream/s2.
---

Increasing COVID-19 cases within Northeast Ohio have prompted Case Western Reserve to resume its requirement that masks be worn indoors. In addition, only those who are fully vaccinated (two weeks past their final dose) should attend any campus event. Leaders continue to monitor pandemic developments and may need to adjust health protocols further as circumstances warrant. In-person is subject to change based on COVID-19 guidelines.