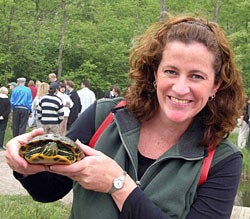 KRISTEN E. LUKAS, PHD
Curator of Conservation and Science,
Cleveland Metroparks Zoo
Adjunct Assistant Professor of Biology
Research Interests
The main focus of my research is animal behavior and welfare in zoological parks. Within this area, my primary research concerns are the effects of designed environments on primate behavior and the analysis and amelioration of abnormal behavior in captive animals. I have mainly conducted both lines of investigation in gorillas and chimpanzees.
My research in environment and behavior includes longitudinal studies of primate behavior and exhibit use, examination of the characteristics of ape facilities at Midwestern zoos, and assessment of the impact of changing environments on primate species. I am also concerned with the behavioral impacts of social environments, particularly how different social compositions affect the behavior of male gorillas. In the wild, gorilla social structure is typified by a unimale-multifemale organization; however, an equal sex ratio in the captive breeding population necessitates keeping a portion of the adult male population in all-male "bachelor" groups. My work has examined the formation, stability, and success of these groups from a variety of perspectives including behavior, physiology, and personality.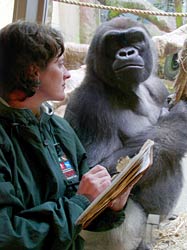 A related line of research examines aberrant behaviors in captive animals. I have studied abnormal behavior in captive zebras, African elephants, otters, and polar bears. My main area of investigation is regurgitation and reingestion (R/R) in captive gorillas. R/R consists of voluntary retrograde movement of food or fluid from the esophagus or stomach into the mouth. While R/R is common in captive gorillas, it has never been observed in the wild. It is hypothesized that dietary factors may account for its occurrence as few zoos, if any, are able to replicate the diversity of vegetation consumed by gorillas in the wild. One unique dietary component traditionally offered to captive gorillas is milk, and I have examined the effects of removing milk from the diet and replacing it with equal volumes of diluted fruit juice or smaller volumes of undiluted fruit juice. Results of this research showed that both dietary alterations reduced R/R behavior and that feeding behavior was increased during the diluted fruit juice trial. Future research will examine other dietary manipulations and their impact on gorilla R/R.
As a social scientist, I am also interested in examining the effects that zoos, as informal education institutions, actually have on their visitors. I have examined zoo visitor behavior at ape exhibits as well as the effects of educational programs aimed at heightening awareness of the bushmeat trade. This research asked if zoos really inspire people to take conservation action. A current line of research supported by The George Gund Foundation asks what visitors know about the conservation program at Cleveland Metroparks Zoo and how visitors would like to learn about conservation at the Zoo.
As the Curator of Conservation and Science at Cleveland Metroparks Zoo, I oversee a broad program that includes staff expertise in epidemiology, endocrinology, genetics, and field conservation. The Zoo supports conservation research in over 30 countries around the world, with regional initiatives in Latin America, Africa, Asia, and locally. Conservation and Science staff conduct research with a variety of species. I have overseen graduate students at the Zoo working in areas as diverse as cheetah reproduction and endocrinology, elephant and rhinoceros exhibit use and stress, and gorilla behavior. My own research at the zoo includes local in situ butterfly monitoring, octopus behavior and enrichment, batagur turtle behavior, and fossa infant development in addition to my work with great apes.