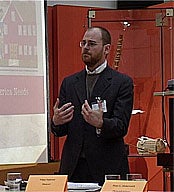 Associate Professor & Chair
of Cognitive Science
My areas of specialization include cognitive linguistics, semiotics, discourse analysis, and rhetoric. These areas of specialization provide the frameworks and methods for tracing the micro-cognitive and phenomenological bases of attention as they make their presence felt in the higher-order activities of social awareness, discourse, and persuasion. Human minds are "rhetoric machines."
Current Research Projects
Attention, Conceptual Blending, and Language in Museums and Other Exhibition Sites
Force Dynamics in High-Stakes Rhetoric
Artifacts as Keys for Joint-Attention
Cooperation, Cognition, and Social Reality
From Speech Acts to Document Acts
Grammar, Gesture, and Spatial Descriptions