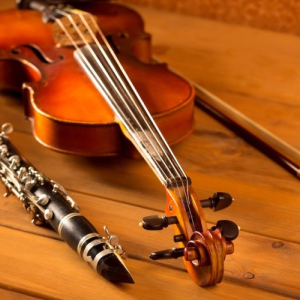 Thursday, April 28, 2022, 7:30 PM
Harkness Chapel, 11200 Bellflower Road
Free and open to the public
Program
A Yiddishe Khasene: A Celebration of the Eastern European Jewish Wedding
Visit this page to view the program information. 
Visit this page to view the texts. 
PROGRAM NOTES
Steven Greenman, Director
Our concert tonight features klezmer music that was performed for the traditionalEast European Jewish wedding (khasene). The khasene provided the stage for theklezmorim (professional Jewish musicians) to showcase their musical talents whileentertaining the khosn and kale (groom and bride), family, relatives, and guests. Thekhasene was a multi-day affair lasting either a couple days or a full week dependingon the affordability of the families. With that, the klezmorim needed a bountifulrepertoire of varying styles and genres ranging from artistic listening music todance music. A special performer who complimented the klezmorim was theMarshalik or Badkhn (master of ceremonies). The Marshalik/Badkhn announcedspecial moments of the wedding and chanted poignant vocal recitatives to the kale.
The khasene was a solemn affair that imbibed a serious tone and vibe. The fastingof the khosn and kale during the day of the wedding, the traditional wearing ofwhite, and the general solemnity of the occasion reflected the customs and themesof the Jewish Day of Atonement, Yom Kippur. As traditional East Europeanmarriages were arranged by the parents without the consent of the bride andgroom, the serious mood was magnified. The klezmorim skillfully wove soulful musicinto the wedding celebration to embody this spirit. In contrast to the seriousness ofthe early parts of the khasene, the later moments featured abundant rejoicing andspirited dancing. Overall, the klezmorim were major contributors to the Yiddishekhasene, providing their talents and spirit in the service of the traditional EastEuropean Jewish wedding, a vitally essential part of Ashkenazic Jewish culture.
---
Individuals attending Case Western Reserve events are expected to be fully vaccinated, including boosters if eligible. Masks are not required at this time, but we respect the choices of those who elect to wear them. University leaders continue to monitor pandemic developments and will adjust health protocols as circumstances warrant. Learn more about CWRU's COVID-19 response.